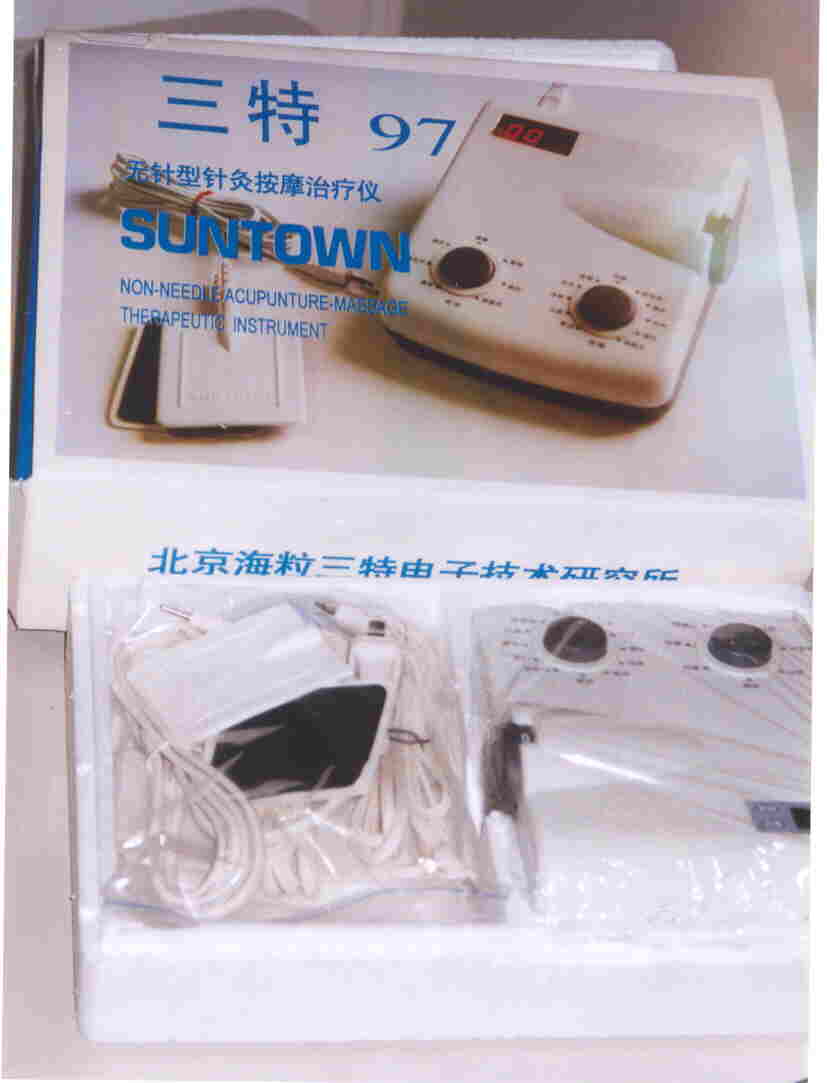 三特 97
无针型针灸按摩治疗仪
SUNTOWN
NON-NEEDLE ACUPUNCTURE-MASSAGE
THERPEUTIC INSTRUMENT
GOOD WISHES:
Dear friends:
When you have a 'SunTown' Non-Needle Acupuncture and Massage Therapeutic Instrument, you will be keep in good health. It is our special concern, true devotion and promise for you.
Perhaps you feel uncomfortable and constant tiredness in you fast – rhythm life style. As time goes by, body changes may bring anxiety and restlessness to you.
'ST' therapeutic instrument could relieve you from all these troubles, you will work in a light mood and lead a happy life.
'SunTown' wishes:
our junior friends a glorious future;
our middle-aged friends forever young;
our senior friends a good health.
Truly your,
Li Chunsheng
The inventor of the instrument
Function
Simulating the manipulation of artificial acupuncture such as inversion. Plum – blossom, twirling, twirling & rotating, lifting & thrusting, lifting & pulling, intensive lifting and pulling, etc.

Simulating the manipulation of artificial massage such as: point – pressing, kneading & dispersing, squeezing & suppressing, pressing & kneading, regulating manipulation, shaking and tapping, etc.

Acupuncture acts independently or together with massage simultaneously. The two methods may be shifted freely as you wish.

The manipulation of acupuncture and massage can be selected and alternative freely as will.