14E-1957D
Applied Chinese acupuncture for clinical practitioners
针灸临证集验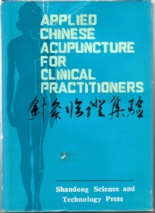 By Sun Xuequan
Shandong science and technology press, 316pp. 265x185mm. cloth
This book introduces both traditional theories of Chinese acupuncture and the author's personal experience in his many years of clinical practice.
14E-2003P
Synopsis of prescriptions of the Golden chamber – a classic of traditional Chinese medicine
金匮要略方论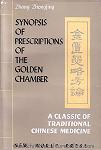 By Zhang Zhongjing
New world press 386pp, 4pp photos, 222x152mm, paper
ISBN: 7-80005-1
One of the great classics of traditional Chinese medicine, this book was written 1700 years ago by Zhang Zhongjing, a great scholar of the eastern Han dynasty. It is the earliest extant treatise on miscellaneous diseases. In addition to the complete translation of the original text, the book also includes a collection of annotations, notes explanations with appendixes of pulses, prescriptions and an index of TCM terms.
14E-2121
Chinese acupuncture and moxibustion
中国针灸学



Foreign languages press 568pp 260x185mm cloth
ISBN: 7-119-00378-X
The science of acupuncture and moxibustion is an important component of traditional Chinese medicine in the prevention and treatment of disease. This therapy has been accepted by the Chinese people for thousands of years. Based upon essentials of Chinese acupuncture, this book incorporates the rich experience of class teaching and clinical practice and the results of acupuncture research, retaining the characteristic features of the traditional theory of acupuncture and stressing the integration of theory and practice. The book consists of 18 chapters and two appendices complete with over a hundred and fifty illustrations.
14E-2132
Pointing therapy – a Chinese traditional therapeutic skill
点穴疗法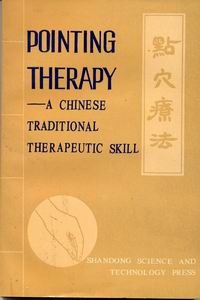 By Jia Lihui and Jia Zhaoxiang
Shandong science and technology press 290pp 222x140mm paper
ISBN: 7-5331-0076-X
This book introduces the history, characteristics and techniques of pointing therapy systematically and also the authors' rich experience accumulated in over 20 years. It is very popular among domestic readers and has now been translated into English with the aim to exchange views and discuss the principles and techniques of this traditional therapy with people in other countries who are also interested in this subject. It consists of 4 parts: general introduction, techniques of pointing, commonly used points and stimulant lines, and clinical practice. In addition, it contains 115 illustrations.
14E-2144P
Series: Traditional Chinese Therapeutic Exercises & Techniques Vol.3.
Eating Your Way to Health
-- Dietotherapy in TCM 中医饮食疗法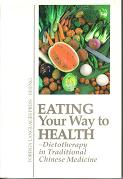 Cai Jingfeng
ISBN711901885X
199pp hb 203x138mm
This book systematically describes the history of Chinese dietotherapy, tells how to make medicinal foods, introduces the consumption. Dietary treatments for 42 common illnesses are described and more than 100 kinds of medicinal foods are explained in detail.
14E-2238
Keep fit the Chinese way
- Traditional Chinese therapeutic exercises and techniques
中国传统的康复医学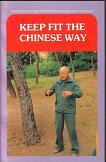 By Hu Bin
Foreign languages press 198pp illus. 189x119mm paper
ISBN: 7-119-00908-7
This book introduces to the general reader this unique rehabilitation medicine, including breathing exercises, traditional gymnastics for health, shadow boxing, muscle relaxation, five-animal exercises, eight-part exercise, eighteen exercised, exercises in bed, massage therapy, chiropractic, lapping, acupuncture-moxibustion, cupping and bloodletting.
14E-2255
Acupuncture, meridian theory and acupuncture points
十四经穴图解



By Li Ding
Foreign languages press 420pp illus. 265x195mm cloth
ISBN: 7-119-00405-0
14E-2316
Infantile Tuina therapy – traditional Chinese therapeutic exercises and techniques
小儿推拿法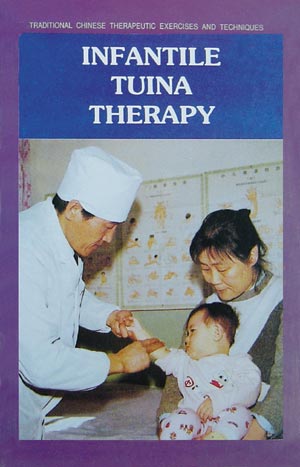 By Luan Changye
Foreign languages press 130pp 184x119mm paper
ISBN: 7-00641-X
Tuina therapy used to be called massage ancient times; it has a long history in China and a collection of many monographs. The therapy is safe, economical, simple, effective, painless and without side effects, thus accepted. Of particular import is that infantile Tuina therapy relieves not only the infant's fears of injection and orally administered drugs but also parents' anxiety. The 60000 word book has more than a hundred illustrations.
14E-2321
Optimum time for acupuncture – a collection of traditional Chinese chronotherapeutics
中国针灸最佳时间治疗学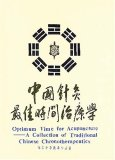 Shandong science and technology press 128pp 260x180mm cloth
ISBN: 7-5331-0282-7
This book is a kind of acupuncture method proposed by those who pay attention to the influence of time conditions on human body in selecting and needling points. Theoretical basis and connotative essence of this method have been expounded in this book according to the holistic concept of traditional Chinese medicine and the chronobiologic finding of current medicine.
14E-2326
Practical way to good health through Chinese traditional medicine
实用中医养生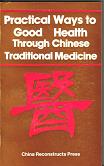 China today press 140pp 184x115mm paper
ISBN: 7-5072-0166-X
This book on the practical ways to maintain good health is not an academic work. It describes for ordinary people the various simple ways of keeping fit and curing illness.
14E-2327P
Wild goose Qigong
大雁气功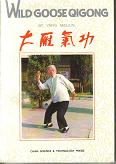 Yang Meijun
China Science & Technology Press
ISBN: 7504601276
172pp pb 183x129mm
14E-2338
Qigong essentials for health promotion
中国气功养生学概要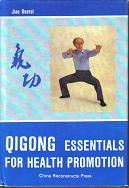 By Jiao Guorui
China today press 260pp 210x140mm cloth
ISBN: 7-5072-0100-7
This book is a detailed introduction of the fundamentals of Qigong exercises. Its purpose is to change certain erroneous views of this ancient art, eliminate mystification, assert the principle of Yin-Yang traditional Chinese medicine, and explain scientifically the theory and principles of Qigong as well as the proper ways of practicing it.
14E-2339
Atlas of therapeutic motion for treatment and health – a guide to traditional Chinese message and exercise therapy
中国医疗保健推拿图谱



By Sun Shu chun
Foreign languages press 184pp 258x198mm cardboard
ISBN: 7-119-00719-X
This book gives a detailed, step-by-step introduction to traditional Chinese massage and exercise therapy designed to treat a wide variety of muscle and bone ailments and generally improve the health. Illustrated with colour photos, the book is easy to follow for laymen and a good training manual for medical workers.
14E-2435S
Essentials of Contemporary Chinese Acupuncturists' Clinical Experiences
当代中国针灸临证精要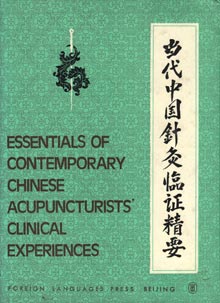 Chen Youbang & Deng Liangyue
Foreign Languages Press
ISBN: 7119010425
648pp hb 258x187
Acupuncture and moxibustion are important components of traditional Chinese medicine. Clinical experiences are essential in the science of acupuncture and moxibustion. Developing clinical advantages and increasing therapeutic effects are considered the key points fro the promotion and development of acupuncture and moxibustion as well as of traditional Chinese clinical medicine. This book features the essentials of clinical experiences and provides information and reference materials to readers.
This book consists of 69 articles, each of which is the clinical specialty of a professor, an associate professor, or a research fellow. Each article is composed of three parts. Part one gives brief introduction of the author's background, works and achievements. Part two deals with the academic characteristics and medical specialties such as technique, prescription, acupoints and others. Part three is a consideration of the case records in which some typical cases are analyzed as proof to the theory under discussion. There are a total of 293 cases in this book.
This book is written by Professor Chen Youbang who has been engaged in the administration of Chinese medicine since 1978. He was the vice director of the Bureau of Traditional Chinese Medicine in the Ministry of Public Health and is currently the director of the Office Bureau of the State Administration of Traditional Chinese Medicine.
14LaEFEsC-2448S
Anatomical nomenclature
人体解刨学名词



Nomina Anatomica: Anatomical Nomenclature: Nomenclature Anatomique: Anatomia Nomenklaturo.
Hardback, ca. 19x27cm.
Li Kexi, André Albault & Huang Ying
Text in: Latina, English, Français, Esperanta and Chinese
697 pages

back
14E-2454
Chinese massage therapy
中国推拿疗法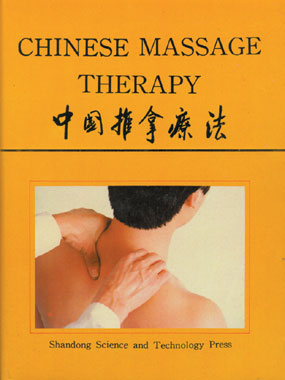 By Sun Chengnan
Shandong science and technology press 556pp 260x185mm cloth
ISBN: 7-5331-0497-8
Clinical experiences of various distinguished schools of massage have been collected I this book. It consists of three volumes: Introduction, Massage for adults, and Massage for Children. This is a book of substantial content, drawing on collective wisdom and absorbing all useful ideas. Gathered experiences and key points are written in a new style, to make it easy to understand and practicable for use. It is a reference for clinicians, medical teachers, and scientific research personnel.
14E-2459
Auricular points charts
耳穴挂图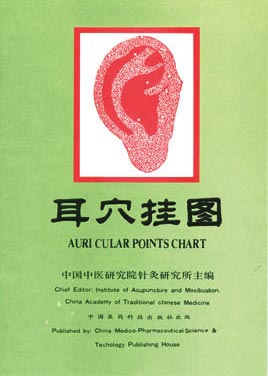 China medico-pharmaceutical science & technology publishing house 20pp 5 pictures 260x185mm paper
ISBN: 7-5067-0116-2
Auriculotherapy, diagnosising and treating diseases by examining the auricle, is an important part of traditional Chinese medicine.
Auricular Points can be used as a good textbook and reference work.
14E-2478
Charts of meridians and their points
中国经络穴位图
By Li Ding
Foreign languages press 58pp 380x268mm paper
ISBN: 7-119-01165-0
This folder consists of 20 colour charts showing accurate distribution of the 12 regular meridians and the 8 extra meridians. The charts are drawn with fine craftsmanship and are easy to read. They are not only useful for those working in the field of acupuncture and moxibustion, but they may also serve as a source of reference for students of TCM, massage, Qigong and Wushu.
14E-2487P
Essentials of traditional Chinese paediatrics
中医儿科概要
Foreign Languages Press
Author: Cao Jiming, Su Xinming, Cao Junqi
ISBN: 7-119-01186-3
English
Paperback
260 Pages
Essentials of Traditional Chinese Pediatrics systematically expounds the basic knowledge of traditional Chinese pediatrics, and the differentiation of syndromes and treatment of children's diseases. Chinese herbal medicine is the main method of treatment. In order to enhance the therapeutic effects, acupuncture and Chinese massage therapy are also introduced according to actual conditions.
This book consists of two parts, namely, "Basic Knowledge of Traditional Chinese Pediatrics" and "Treatment of Diseases." There is an appendix in which Chinese massage therapy for children is introduced. An index of the selected recipes and patent medicines is arranged at the end of the book.
Pediatricians of both Chinese and Western medicine, and acupuncture and massage practitioners will find this book a highly useful reference text.
14E-2491P
Methods of traditional Chinese health care
一学就会 -- 常见病中医治疗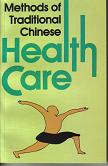 Zeng Qingnan
Foreign Languages Press
ISBN: 7119012096
174pp pb 185x119mm
This book offers quick cures for many common ailments, such as headaches, myopia, cervical spondylosis, periarthritis, back pain, leg cramps, haemorrhoids, insomnia, and lumbago. All the health care methods in this book are described within the framework of TCM theories, particularly the theory of meridians.
14E-2492
The treatment of knotty diseases – with Chinese acupuncture and Chinese herbal medicine
中国针灸中药治疗疑难病症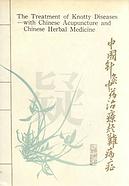 Shandong science and technology press 44pp 203x140mm paper
ISBN: 7-5331-0639-3
In this book, 58 kinds of diseases or syndromes are included, and so each kind discussion goes on under 4 main headings, namely, the brief introduction, the TCM syndrome differentiation and treatment, the case report and the personal experience.
14E-2505S
Chinese Tuina therapy
中国推拿疗法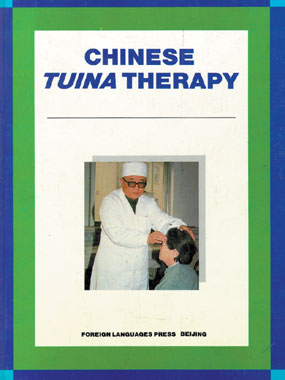 Wang Fu
Foreign Languages Press
ISBN: 7119016741
128pp hb 259x185mm
This book is a summary of well-know masseur Wang Fu's medical experiences during his professional career. 30 Tuina manipulations and 29 therapies for common diseases are included.
14E-2508
Handbook to Chinese auricular therapy
传统中国耳针疗法



By Dr.Chen Ken and Dr.Cui Yongqiang
Foreign languages press 252pp 185x120mm paper
ISBN: 7-119-01224-X
This handbook is written in two main parts.
Part I introduces the basic theories of Chinese auricular therapy including the characteristics of Chinese auricular therapy, locations, functions and indication of Chinese auricular acu-points, auricular diagnosis, principles of selection of acu-points, techniques of manipulation and auricular analgesia.
Part II is devoted to a detailed description of the treatment of common diseases and disorders, which are minutely discussed as to etiology, pathological differentiations, and methods of treatment and prescriptions of auricular points, complete with clear illustrations of black-and white drawing.
Include in this handbook are special techniques that have been greatly developed from simple needing to manipulations of delicate skill. Various new types of auricular stimulations are also introduced, such as filiform needling bloodletting therapy, magneto therapy, see-pressure therapy, auricular moxibustion and massage.
14E-2520
Acupuncture and moxibustion
实用针灸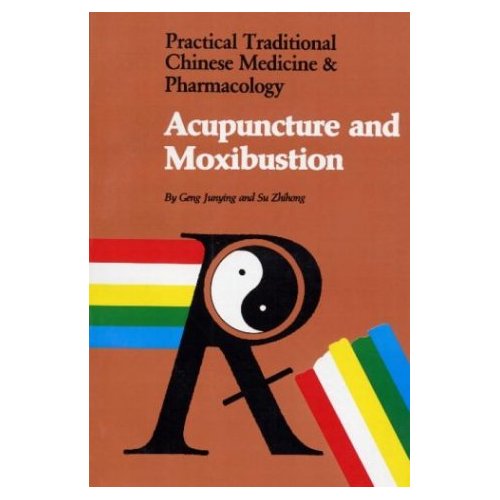 By Geng Junying and Su Zhi-hong 208pp 220x150mm paper
ISBN: 7-80005-116-1
This book not only explains the location, function, pathological indications of each acupoint in its introduction to acupoints but also lists the syndromes and the points to be applied in its section on treatment of common diseases. While introducing one ace-point, the book also provides detailed information on the main points to be combined with it in treating different types of diseases as well as the point variations for the different syndromes of the same diseases.
14E-2521
Herbal formulas
实用中医方剂



By Gang Junying and others 272pp 220x140mm paper
ISBN: 7-80005-118-8
138 most effective and commonly used formulas in Chinese medicine are introduced in the book. The book does not merely list each formula's functions, indications, applications and herb to be used, but also provides charts and detailed analyses of the causes and physical manifestations of the symptoms each formula is effective for and the curative contribution of each individual herb.
14E-2522P
Medicinal herbs
实用中草药



By Geng Junying and others 296pp 220x140mm paper
ISBN: 7800051196
This book provides detailed and essential information on the respective properties, tastes, therapeutic function and the directions of action on specific channels and collaterals of more than three hundred most commonly used medicinal herbs.
14E-2523
Clinical experiences
中医临床经验



By Shang Xianmin and others 364pp 152x222mm paper
ISBN: 7-80005-122-6
Organized according to the characteristics and therapeutic methods for treating common diseases, each section begins with a brief description of the diseases followed by a discussion of the etiology and pathogenesis and discussion on syndrome differentiation, therapeutic principles, classification and treatment and experiential prescriptions. A remarks section is included to adjust the prescription for exceptions and variation.
14E-2569
Believe it or not
- ancient and mysterious Chinese Qigong
信不信由你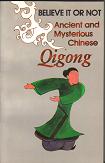 By Zeng Qingnan
Foreign languages press 132pp illus. 185x120mm paper
ISBN: 7-119-01324-6
What is qigong? What diseases can be treated with qigong? Why does qigong? have therapeutic effects? This book provides ready answers to these questions and introduces the seven best-known qigong? exercises, which can be practiced at any time and under any circumstances. It is "must"reading for those who are interested in studying and practicing Chinese qigong?
14E-2589
Prenatal energy mobilizing Qigong – China Taoist ancient Qigong
- Chinese Kungfu series
中国先天一元气功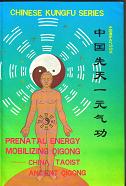 By Chen Yanfeng and others
Guandong science and technology press
214pp illus. 209x141mm paper
ISBN: 7-5359-0756-3
This book is an introduction of the China Taoist Ancient Qigong, "Prenatal energy mobilizing Qigong". Its covers the Essentials Qigong Practice, Method for Practising the Quiescent Qigong Patterns and the Motioned Qigong Patterns, Mechanism of Qigong, Scientific Experiments of Qigong. Qigong Practitioners' Experiences and Answers to Questions form Readers, and so on.
14E-2610
The location of acupoints – state standard of the people's republic of China
中医针灸经穴部位标准化



Foreign languages press 208pp 268x200mm cloth
ISBN: 7-119-01368-8
This standard, put forward by the state administration of traditional Chinese medicine, specifies the methods for the location of points and the standard locations of 361 regular points and 48 extra points. It will facilitate the teaching, research and clinical practice of acupuncture, as well as academic information exchange on a global scale.
14E-2620
Standard meridian points of acupuncture (charts)
标准针灸经学挂图



Foreign languages press 370x262mm paper
ISBN: 7-119-01443-9
This set of charts, the first of its kind in standard form to be made in China, is published for the purpose of helping with implementing the standard and facilitation clinical practice, teaching and research. The same specialists who participated in compiling the standard are authors of these charts. The chats respectively show names and locations of meridians and acupoints on the front, back and lateral sides of the human body, along with the international standard nomenclature and alphabetic code.
The booklet accompanying the chats describes in details names and locations of 409 points (361 meridian points and 48 extra points) to facilitate the use of the charts.
14E-2634P
A hanging chart on ten-section brocade Qigong exercise
气功十段锦挂图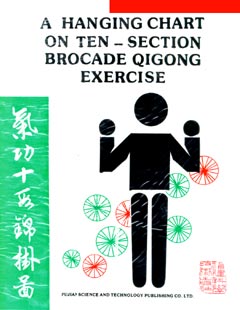 Lin Housheng etc.
Fujian Science & Tech. Pub. Co. Ltd.
ISBN: 7533503833
1 chart 318x225mm paper
The Ten-Section Brocade Qigong Exercise, performed in either standing or sitting position, is easy to learn following instructions of this chart.
14E-2635P
A hanging chart on Taiji Qigong in 18 forms
太极气功十八式挂图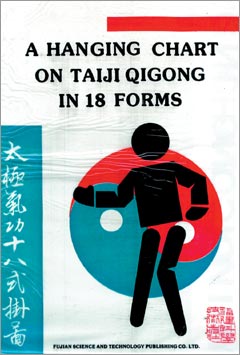 By Lin Housheng
Fujian Science & Tech. Pub. Co. Ltd.
ISBN: 7533503821
1 chart 318x225mm paper
Taiji Qigong in 18 Forms was compiled by combining certain Taijiquan skills with breathing methods used in Qigong exercises. Great exercise for anyone, whether or not they practice martial arts.
14E-2640
Fundamentals of traditional Chinese medicine
中医基础知识



By yin Hui he and others
Foreign languages press 320pp illus. 258x186mm cloth
ISBN: 7-119-01398-X
This book systematically describes the fundamental theories of traditional Chinese medicine (TCM). Its outlines the basic concepts and theories of TCM, such as yin-yang, the five elements, Qi (vital energy), blood and body fluids, pathogenesis, pathology, the four diagnostic techniques, the eight guiding principles, differentiation of syndromes and general rules of prevention and treatment.
14E-2649P
Chinese Qigong outgoing-Qi therapy
中国气功外气疗法



Bi Yong sheng
Shandong Science & Tech. Press
ISBN: 7533110412
484pp pb 203x140mm
Divided into eight chapters, the book expounds extensively the general knowledge and theoretical basis of outgoing-Qi therapy, the points, the training of Qi, etc. Introduced are also twenty methods of training and guiding Qi, twenty-nine hand gestures for emitting Qi and the skills of differential diagnosis and treatment of forty-five main and common diseases.
14E-2655P
Hanging charts of Tuina therapy
推拿挂图



Luan Changye
Shandong Science & Tech. Press
ISBN: 7533109430
36pp pb 378x270mm
With clear and visualized colour photos and simple and easily understood written illustrations, the Charts systematically presents 93 routine Tuina manoeuveres, commonly used points and proper Tuina positions of the human body, and their indications. In addition, it stresses on the Tuina-operating essentials, precautions, etc.
14EC-2673
Illustration of channels and points for acupuncture and moxibustion and Qigong
针灸气功经穴图谱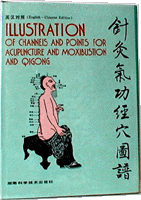 (English-Chinese edition)
By Wang yifang and others
Hunan science & technology press
304pp. illus. 260x180mm. cloth with jacket
ISBN: 7-5357-1069-7
This is a reference book of acupuncture and Qigong. It systematically introduces the basic knowledge's of acupuncture and Qigong, which include the course and distribution of the meridians, the location, action, and operation of the acupoints, the circulation of the meridian-qi in common methods of Qigong training, the ways of sending out the External Qi, and the concentration regions of Qigong exercise. This book is filled with illustrative pictures. And it is simple and easy to be understood.
14E-2696
Chinese family acupoint massage
中国家庭经穴按摩



By Wang Chuangui
Foreign languages press 240pp illus. 258x185mm paper
ISBN: 7-119-01439-0
Acupoint massage is a health maintenance method developed by the Chinese and Chinese medical doctor in their centuries-long struggle against disease. It is based upon the traditional theories of qi, blood, visceral organs, meridians and collaterals, and is characterized by pressing and rubbing on meridians, acupoints, muscles and skin areas with different parts of the palms and fingers and varying degrees of forces. It includes pushing and stroking the meridians, digital and palmer pressing on the acupoints, kneading and grasping the muscles, and rubbing the skin. Acupoint massage is so called because the massage is chiefly applied to acupuncture points and meridians. This well-illustrated massage book provides quick cures and permanent and temporary relief for more than fifty common ailments, including headaches, bronchial asthma, hypertension, diabetes mellitus, constipation, impotence, menstrual disorders, menopausal syndrome, infantile indigestion, stiff necks, acute lumbar sprain, and leg cramps. It also offers tips on how to improve the constitution, prevent diseases, and guarantee longevity. Acupoint massage can be performed by patients or their family members. It is safe and simple, causes no inconvenience or pain, and can be applied to patients at any age.
14E-2727P
Health care at home-A family massage manual
中医按摩健身操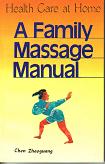 By Chen Zhaoguang
Foreign Languages Press
ISBN: 7119014803
Massage at home, by yourself or your family members following the procedures detailed in this book! The introduction answers your how-it-works questions with a brief examination of basic concepts and theories of TCM. In addition, detailed instructions for the main manipulations ensure that you will be able to perform the massage correctly.
14E-2739S
Cancer treatment with Fu Zheng Pei Ben principle
癌症扶正培本治疗学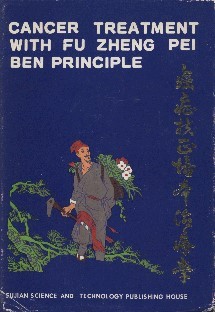 Pan Mingji
Fujian Science & Tech. Pub. House
ISBN: 7533505816
408pp pb 260x185mm
This book consists of two parts: Part 1 describes the principles in cancerous treatment on the theory of reinforcing the body resistance and fertilizing life function with the TCM, as well as western medicine, their clinical effective experiences, recent achievements and advances; Part2 sets forth etiology, pathology, clinical presentations, diagnosis, treatment and prognoses of 35 cancerous diseases especially viewpoints of reinforcing the body resistance and fertilizing life function, planning treatment according to the diagnosis and therapeutics of simple prescriptions or empirical prescriptions in TCM.
14E-2766D
Treatise on febrile diseases caused by cold with 500 cases
-- A classic of TCM with ancient & contemporary case studies
伤寒论 500 医案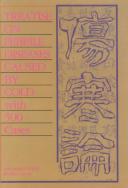 New World Press
ISBN: 7800051838
586 pp hb 150x222mm
A completely revise edition of the previous "Treatise on Febrile Diseases Caused by Cold." Illustrative case studies have been added to the text.
14E-2767S
Synopsis of prescriptions of the golden chamber with 300 cases
-- A classic of TCM with ancient & contemporary case studies
金贵要略方论及300 医案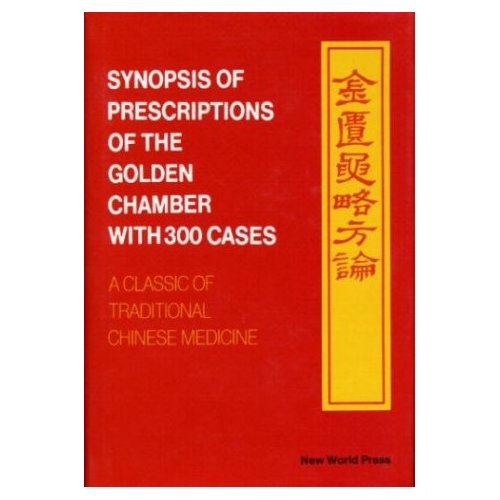 New World Press
ISBN: 7800052915
562pp hb 167x230mm
A completely revised edition of the previous " Synopsis of prescriptions of the golden chamber." Illustrative case studies have been added to the text.
The above two books are the most important classics of TCM, written some 1700 years ago. The importance of these two books in TCM is similar to that of Newtonian theory in the world of physics.
14E-2768P
Hanging charts of infantile Tuina therapy
小儿推拿挂图
Shandong Science & Tech. Press
ISBN: 7533112636
4pp pb
It includes the following four charts:
1. Clinical application & commonly-used manoeuvres.
2. Locations & manipulations of Tuina points in the front.
3. Locations & manipulations of Tuina points on the back.
4. Locations & manipulations of the Tuina points on the palm end the medial side of the upper limb.
14E-2794P
Treatment of diabetes with TCM
糖尿病中医治疗
Chen Jinding
Shandong Science & Tech. Press
ISBN: 7533114590
235pp pb 202x139mm
Under the guidance of the theory of both the Western medicine and the TCM, this book chiefly expounds the method to treat diabetes and its main complications, currently commonly-used therapies for different types of the disease and the law to select drugs and formulas according to Zang-fu theory, and introduces the commonly-used and effective Chinese herbs and formulas that can reduce sugar content in blood. In special chapters, the treatment of the main complications and the senile diabetes are introduced.
14E-2874P
Traditional Chinese treatment for hypertension
中医治疗高血压病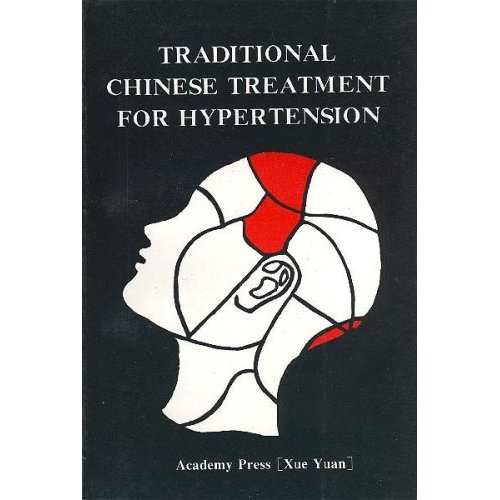 Hou Jinlun
Academy press
ISBN: 7507709965
360pp pb 185x129mm
This book introduces TCM and modern knowledge of hypertension; varied Chinese herbal medicines recommended for hypertension; prescriptions of TCM for lowering blood pressure; acupuncture treatment, massage therapy, Qigong and medicated diet, nursing care for hypertension.
14E-2904P
Clinical handbook of Chinese materia medica
中草药临床应用手册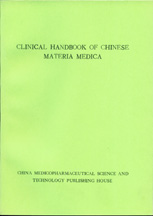 Hou Jinlun
China Medico pharmaceutical Science & Tech. Publishing House
ISBN: 7506713241
326pp pb 261x183mm
This handbook briefly describes the origin, nature, taste, channel tropism, efficacy, indication and direction of Chinese materia medica. Under the topic of indication a summary of the conventional description is presented and recent development of clinical applications also covered.
14E-2905P
Medicated diet of Traditional Chinese Medicine
中华药膳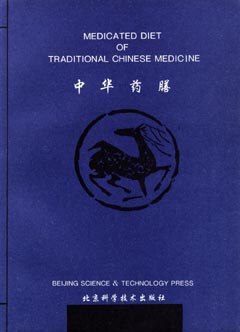 Hou Junlun
Beijing Science & Tech Press
ISBN: 7530417355
210pp pb 259x189mm
Packed with information about common foodstuffs and there medicinal uses, the book shows how even the most common foods have a purpose in the realm of healing.
14E-2922P
Chinese diet therapy
中国食疗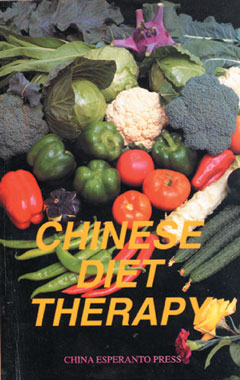 China Esperanto Press
ISBN: 750520307X
248pp 186x120mm
A selection of 570 recipes, which cover 62 common diseases and syndromes. These prescriptions, easy to process at home, have definite curative effects. Special remarks are made where some drugs are incompatible with certain other foods or drugs.
14E-2925S
Chinese Qigong illustrated
中国气功图谱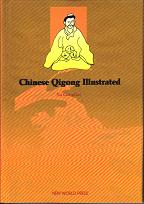 Yu Gongbao
New World Press
ISBN: 7800052478
156pp pb 221x152mm
Qigong is not only explained in language but also described with illustration. And the pictures in this book, selected from some monumental books on Qigong and captioned in simple yet exact words, give expression to Qigong's principles, exercises and skills.
14E-2941P
Chinese medicated liquor therapy
中国酒疗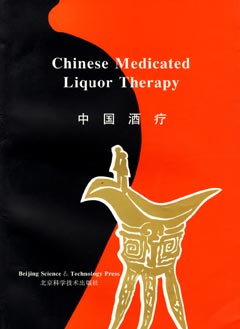 Song Nong
Beijing Scien. & Tech. Press
ISBN: 7530418459
272 pp pb 258x183mm
Medicated liquor therapy here refers to not only the method of using traditional medicated liquor, but also the treatment concerning with alcoholic drinks under the guidance of TCM. In this book, hundreds of prescriptions has been discussed. The ingredients, process, directions and indications of each prescription have been concisely described.
14E-2942P
Treatment of diseases in TCM (series)
Hou Junlun
Academy Press
Vol. 1 Treatments of gastrorantestranal diseases in TCM
中医治疗消化系统疾病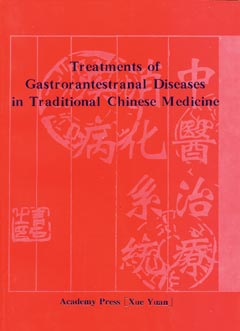 ISBN: 7507707709
268pp pb 259x187mm
Traditional Chinese Medicine and Pharmacology (TCMP) has a long history. TCMP summed up abundant clinical experience in the struggle against diseases. It has formed an integrated, unique and first of all, a scientific system of both theory and clinical practice. On the fundamental principle of "Zhengtiguannian" (Wholism) and "Bian-Zhenglunzhi" (Treatment of the same disease with different therapies), TCM treatment is effective for various kind of diseases with few side effect taken. At present, a great upsurge in learning, practicing and studying TCM is just in the ascendant. For the benefit of people of all countries, we compiled this series of "Collection of Traditional Chinese Medicine" in order to promote the spread of TCM all over the world. The collections include: Traditional Chinese Treatment for Cardiovascular diseases, Traditional Chinese Treatment for Respiratory Diseases, Traditional Chinese Treatment for Gastroenterology etc.
14E-2943P
Vol. 2 Traditional Chinese treatment for cardiovascular diseases
中医治疗心血管疾病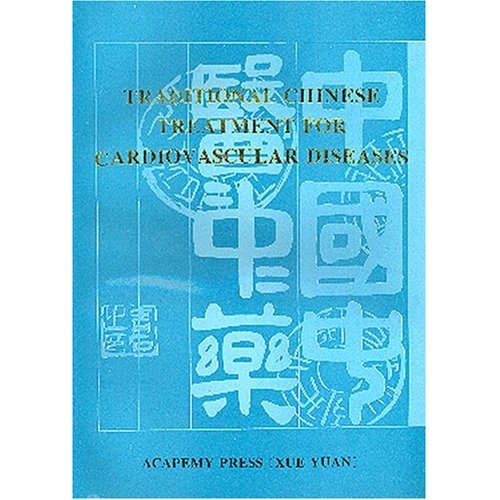 ISBN: 7507710386
292pp pb 260x186mm
14E-2944P
Vol. 3 Treatment of paediatric diseases in TCM
中医治疗儿科疾病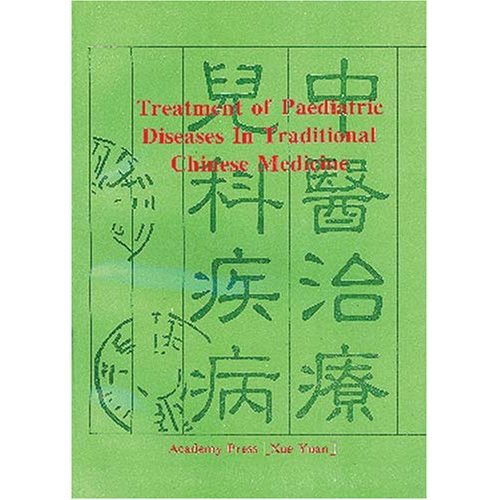 ISBN: 7507711374
288pp hb 260x185mm
14E-2991P
Atlas collection of acupuncture & massage
中国针灸推拿图谱大全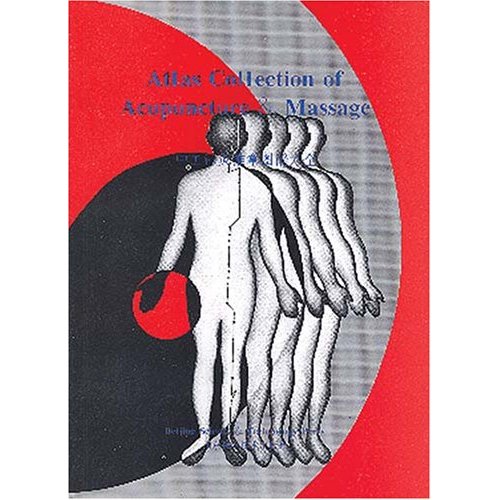 Zhao Xin
Beijing Scien. & Tech. Press
ISBN: 7530418351
160pp pb 260x189mm
It is an atlas collection presenting standard location of 14 meridians; the eight extra channels; auricular points; points of scalp acu., hand acu., eye socket acu, nose acu,. mouth acu., tongue acu., chest-massage acu., facial acu., lateral aspect second metacarpal bone acu., foot acu., wrist and ankle acu., meridians and collaterals-point area and belt acu, infantile massage.
14E-3015P
Methodology of TM
中医方法论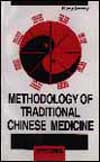 Huang Jianping
New World Press
ISBN: 7800052664
192pp pb 208x130mm
This book deals with the TCM system of methods and procedures to be used in TCM field.
14E-3021P
Qigong exercise therapy
气功疗法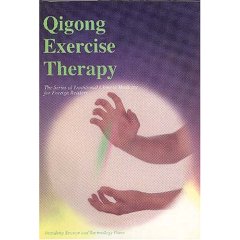 Zhang Jianguo & Bi Yongsheng
ISBN: 7533119398
282pp pb 203x141mm
Contents of the book: the necessary knowledge of principles and characteristics of Qigong exercise therapy and essentials of Qigong exercise practice; Qigong exercises and their main points for attention in the treatment of specific internal, gynaecological, E.N.T. and surgical and traumatic common diseases; Qigong exercises of callisthenics and obesity relief; prevention and treatment of Qigong deviations.
14E-3038P
Diagnostics based upon observation of palmer
中国掌纹诊病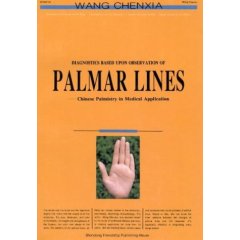 Wang Chenxia
Shandong Friendship Pub. House
ISBN: 7805517681
282pp pb 203x140mm
The hands and the brain are the important organs that make man the wisest of all the creatures. the size, thickness, fingers and colour of the hands; the length and straightness of the colour and shape of the nails; the patterns of the palmer lines; all these are closely related to the character, psychology, physiology and pathology. The writer, based on 160,000 cases the treated and 5000 pictures of palmer lines collected, has found the inner relations between the changes of palmer lines and 130 diseases.
14E-3076P
Preparations and uses of Chinese medicated spirits and wine
中国药酒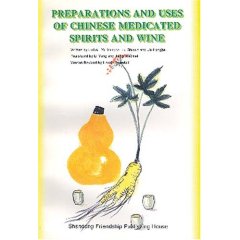 Lu Lei, Yu Yangbo, Lu Shuyun etc.
Shandong Friendship Pub. House
ISBN: 7805518351
304pp pb 203x140mm
Alcoholic drinks, especially spirits and wine, have proved miraculously effective in treating diseases, and are a precious heritage of TCM. This book includes the invention and application of alcoholic drinks; the preparation for medicated spirits and wine; and the principles and application of medicated spirits and wine.
14E-3104P
Concise Tuina therapy
简明推拿疗法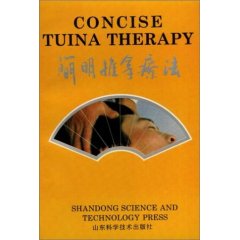 Luan Changye
Shandong Science & Tech Press
ISBN: 7533110609
216pp pb 204x139mm
This book consists of 6 parts:
Part 1. introduces briefly the elementary knowledge of Tuina therapy;
Parts 2 & 3 describe various Tuina man oeuvres and their functions, principles of Tuina practice and matters needing attention;
Part 4 covers the Tuina routine manipulations on all parts of the body;
Parts 5 & 6 expound in detail Tuina therapy for more then forty common diseases, the fundamental man oeuvres of infantile Tuina therapy, and the Tuina therapy for more than ten common paediatric diseases.
14E-3120P
Curing diseases the Chinese way -- with Ginger Garlic and Green Onion
葱, 姜, 蒜治百病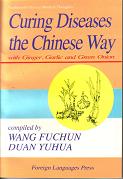 Wang Fuchun & Duan Yuhua
Foreign Languages Press
ISBN: 7119019058
166pp pb 204x139mm
Green onion, ginger and garlic are very useful for treating many diseases. It is the first book to fully explore their pharmaceutical value according to the theories of traditional Chinese medicine and clinical practice. More than 600 recipes using green onion, ginger and garlic as the principal ingredients, together with other Chinese herbs and tonics as supplemental components, for treating more than 100 diseases are described in this book.
14E-3257S
Chinese Yuanbao Qigong
中国元宝气功



Yang Qiyuan
New World Press
ISBN: 780005392X
202pp hb 230x160mm
Chinese Yuanbao Qigong is one of the most remarkable Qigong techniques. This book lays stress on its applicability, the outlining of theories which are closely related to the most common theories of TCM, and moves easy to learn and practice. From a few different angles, the book also conveys the romantic charm, the techniques and scientific research of Yuanbao Qigong.
Euroned-China Promotions (ENCP) www.encp.nl