10E-30P
Wild grass by Lu Xun 野草
PAPERBACK
Wild Grass is a collection of prose poems by Lu Xun. These were written in 1924 and 1926, roughly the same time period the stories of Wandering were being written. Some scholars consider of the poems in Wild Grass to be darkest ever.
10E-253S
Ashima 阿诗玛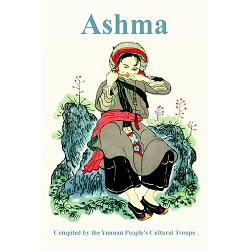 10E-259S
The courtesan's jewel box -- Chinese stories of the Xth-XVIIth centuries
宋明平话选



Hardcover
Publisher: China Books & Periodicals
ISBN: 0835108775 / 978-0835108775
10E-337S
The man who sold a ghost -- Chinese tales of the 3rd-6th centuries
汉魏六朝小说选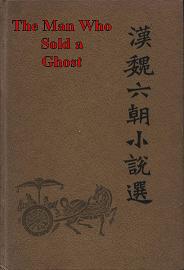 This collection contains some of the best Chinese tales from the third to the sixth century.
They fall into two main categories: stories of the supernatural and anecdotes about historical figures. The former, which clearly predominate, evolved from earlier myths and legends.
Lu Hsun said in his Brief History of Chinese Fiction: "When primitive men were puzzled by the ever-changing phenomena of nature, they made stories to explain them. And so myths started." As society developed, myths changed into legends. The chief characters in myths are gods, while in legends they are men with semi-divine qualities. The ancient myths and legends of China have not been preserved because the ruling class neglected them; but occasional examples can be found in old works of philosophy or history. Thus the Book of Mountains and Seas has preserved many myths and legends of bygone heroes. Another work of the Warring States Period, the Travels of King Mu, records how this Chou dynasty king journeyed in a carriage drawn by eight divine horses to the Queen Mother of the West. The ghost and fairy stories of the third to the sixth century were inspired by the spirit we find in those early myths and legends.
Since the old myths and legends were closely linked with ancient history, the earliest historical records often include them as authentic facts. Later legends parted company with myths and became more like modern stories. This collection also includes anecdotes about real men — another type of early Chinese fiction.
Though the tales about the supernatural originated in myths and legends, they possess a distinctive social content and a fair degree of realism.
10E-456P
Old tales retold
故事新编
Thirteen ancient stories, retold with a definite modern sensibility. Included are "Flight to the Moon," "Mending Heaven," "Curbing the Flood," and more.
10E-1424SA-C
A dream of red mansions (1-3)
红楼梦



English. By Tsao Hsueh-chin(Cao Xueqin) and Kao Hgo(Gao E). 3 volumes (599 + 701 + 586 pages). Hard cover.
A Dream of Red Mansions (Hung Lou Meng), the great classical Chinese novel written in the mid-eighteenth century during the reign of Emperor Chien-lung of the Ching Dynasty, has been widely popular throughout the last two hundred years and more.
10E-1488PA-D
Outlaws of the marsh (1-4)
水浒传(1-4)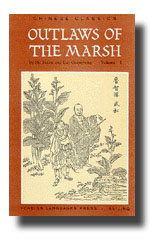 By Shi Nai'an & Luo Guanzhong (4.5" x 7". 1650pp. 4 vol.)
Outlaws of the Marsh is the Chinese "Robin Hood." Based upon an historic rebellion that arose from warriors in the Liangshan marsh, this is a tale of mighty heroes and relentless villains. Many martial arts references arose from this novel, such as the categorization of the Eighteen Weapons, and two Kung Fu forms: Wu Song Breaks Manacles and Yanqingquan.
10E-1532P
The magic knife
宝刀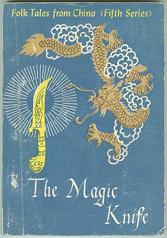 出版社:外文出版社
开 本:32K
页 数:142
简 介:共收录有:《DROLMAKYID THE FAIRY》、《THE LION TAMER》、《THE TIGER KING'S SKIN CLOAK》、《THE IMMORTAL MOUNTAINS》、《THE ORPHAN YAN RAN》、《POSTING THE DRAGON TABLET》、《THE MAGIC KNIFE》、《ZHAOZHOU BRIDGE》、《THE PHOENIX FAIRY FOLWER》等九篇中国民间故事。
10E-1556PA
Old tales of China
中国传统故事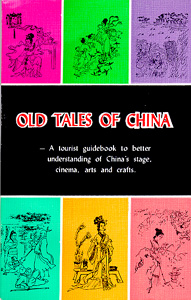 In English. 185 pages. A tourist guidebook to better understanding of China's stage, cinema, arts and crafts.
10E-1571P
Excerpts from three classical Chinese novels
三部古典小说节选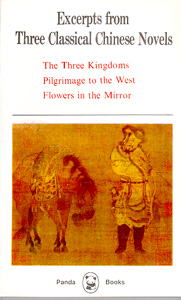 ISBN: 7-5071-0345-5 / 0-8351-3181-5
295pp 36mo
Excerpts from three well-known Chinese classical Chinese novels are presented in this small collection, an excellent introduction to classical Chinese culture.
"The battle of the read cliff" is from The three kingdoms, written by Luo Guanzhong in the late 14th century. A historical novel, it covers the hundred years from AD 184-280, describing the rise and fall of the kingdoms of Wei, Shu and Wu, and the political and military struggles waged.
"The faming mountain" is from Journey to the west, a 16th century novel by Wu Cheng'en. It tells how Monkey and his friends Pigs and Sandy accompany the monk Tripitaka on his journey westward, vanquishing monsters and facing dangers en route.
"A journey into strange lands" is from Flowers in the mirror, an early 19th century novel by Li Ruzhen, which satirizes the social mores of that period. Like Gulliver, Li's hero tang Ao travels to strange places and sees outlandish sights.
10E-1613P
Selected tales of Liaozhai
聊斋故事选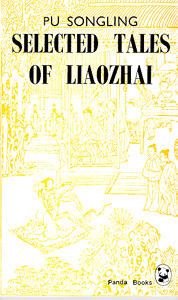 Pu Songling
ISBN: 0-8351-1331-0
154pp 36mo
Tales of Liaozhai was written by Pu Songling (1640 - 1715) shortly after the founding of the Qing dynasty. Fox-fairies, ghosts and other strange spirits abound, meting out rewards and punishment to good or erring mortals. Based on popular legends and folklore, these tales were retold by Pu Songling in an era of strict censorship and represent his hostility to the new Manchu rulers and their corrupt officials. Seventeen of these stories have been selected for this edition.
10E-1614P
Recollection of west Hunan
湘西散记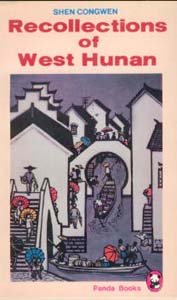 Shen Congwen
195pp 36mo
Shen Congwen, a distinguished scholar of the Tujia nationality, was virtually self-taught. As a boy he often hid his school books in a temple and played truant to learn from the bigger book of NATURE. The beautiful countryside of west Hunan forms the background of many of his most popular stories. In these recollections he describes his boyhood there and the life and customs of the local people, their romances and feuds, their legends and superstitions, their chivalry and rough justice. These accounts, although sometimes tragic and harrowing, have a idyllic atmosphere and conjure up the colorful past of his remote minority region in China.
10E-1620P
Beijing legends
北京的传说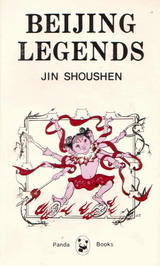 Chinese literature press
ISBN: 0-8351-1338-8
141pp
These folk-tales come from Beijing Legends, a volume compiled by Jin Shoushen, an old Manchu gentleman who lived in Beijing. Based on the tales told by generations of Beijing story-tellers, they were first published by the Beijing publishing house in 1957.
10E-1752P
A small town called hibiscus
芙蓉镇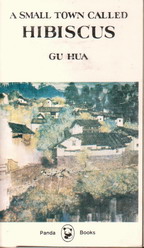 Gu Hua
ISBN: 0-8351-1074-5
260pp 36mo
This novel brought immediate recognition of Gu Hua. When is was adapted into a first-class movie, Hibiscus won prizes both overseas and at home.
Globe & Mail in Toronto commented, "Set in a mountain town in South Hunan, it describes the impact of the political events of the sixties on several different families. These were hard times, and Gu Hua paints a picture that is by turns appalling, tragic and humane. His style is fresh and informal, and his narrative presence infuses the story with humor."
10E-1755P
Book of songs
诗经选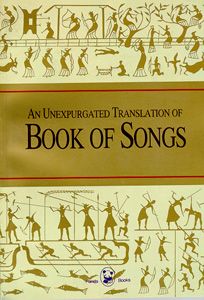 ISBN: 0-8351-1080-X
112pp 36mo
The earliest anthology of poetry in China, the Book of songs consists of 305 songs popular between the 11th and 6th century BC. More than half of them are folk songs from various parts of the country, while the rest are ceremonial or festive songs which were sung at court or at banquets or hymns used during sacrifices to the gods and ancestors. Most of the songs, written in a simple and natural style, reflect life and struggle, labor and love, joy and sorrow and have been highly appreciated throughout the ages. They have exerted a profound influence on he development of Chinese literature. This selection includes 45 songs, together with an article by Yu Guanying, an expert in this field.
10E-1759PA
Nights of spring fever -- Yu Da Fu
郁达夫作品选 -- 迟桂花及其它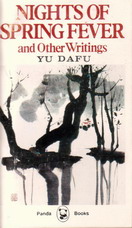 Yu Dafu
ISBN: 0-8351-1097-6
213 pp 36mo
Yu Dafu is one of China's most famous and accomplished modern writers, best known for his short stories, essays, criticism and poetry.
"Nights of spring fever" depicts a young female factory worker while " a Humble Sacrifice" describes a rickshaw puller through the eyes of sympathetic intellectuals. " Late-Flowering Cassia" is a skillful blend of strong characterization and lyrical descriptions of nature. The short novel " Flight," which is set in the warlord period, is generally considered his most representative work. "A Fatalist" is a moving account of a poor schoolteacher's life.
10E-1760P
Catkin willow flats -- Liu Shao Tang
蒲柳人家 -- 刘绍棠中篇小说选



ISBN: 0-8351-1160-0
267pp 36mo
Liu Shaotang is known for his ability to capture the flavor of rural life in north China. Born in 1936, Liu began writing while still a student and has published a large number of short stories.. His works are usually set in his native county of Tongxian in Beijing.
He is adapt at capturing the local flavor through the use of dialect and descriptions of local customs and life-styles. The four stories in this collection offer a vivid picture of tradition and change in the countryside.
10E-1763P
Chinese stories from the fifties
五十年代小说选
ISBN: 0-8351-1077-X
239pp 36mo
The years following the founding of the People's Republic in 1949 formed a remarkable period, both in China's history and its literature. The twelve stories in this collection offer readers a sense of the vast changes that were taking place. Through themes ranging form the attempts of young people to break with feudal tradition to social changes in the countryside, they graphically mirror the attitudes and issues of their time.
10E-1764P
Poetry and prose of the Tang and Song
唐宋诗文选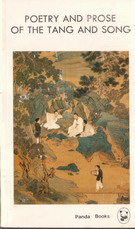 ISBN: 7-5071-0062-6/I.56 / 0-8351-1164-4
310pp 36mo
the tang en Song dynasties, spanning more than 600 years from the 8th to the 13th century, say a period of great economic and cultural prosperity in Chinese society. During this golden age of classical literature, numerous masterpieces were produced which have exerted a profound influence ever since.
This collection contains the work of eighteen classical authors, including the major poets Wang Wei, Li Bai, Du Fu, Bai Juyi, Su Shi and Lu You as well as the great prose stylists Han Yu, LiuZhongyuan and Quyang Xiu.
Though this is only a small sample of the voluminous literature of the period, it should prove informative and interesting for specialists and general readers alike.
10E-1765P
Pagoda ridge -- Gu Hua
浮屠岭 -- 古华小说选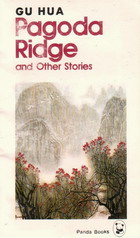 ISBN: 0-8351-1335-3
260pp 36mo
The four stories in this collection by the celebrated author of A small town called hibiscus will take readers even further into the mountainous life of Hunan. Gu Hua's well-constructed and richly descriptive works combine a fine narrative talent with a sharp perception of the impact of the modern world on these remote communities. His own broad experience of the region and understanding of local customs give him a unique point of view on the villagers' life and in particular the difficulties of rural women struggling to escape solidly entrenched feudal mores.
10E-1766P
Lilies -- Ru Zhi Juan
茹志鹃小说选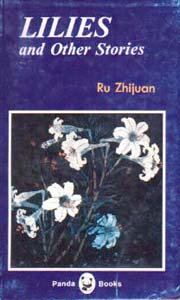 ISBN: 0-8351-1332-9
205pp 36mo
One of China's most popular authors, Ru Zhijuan is best known for her short stories. This collection contains ten works, including "lilies," the story which brought her fame in 1958. Many of the earlier themes of her stories were drawn from the War of Liberation, but she now writes on a wide range of subject. "A badly edited story" and "The path through the grassland," both recent works, have won national awards. Her stories are well constructed and engagingly written, with an emphases on subtle characterization.
10E-1767P
Mimosa 绿化树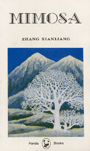 Zhang Xianliang
ISBN: 7-5071-0007-3/I.8
270pp 36mo
Set on the vast landscape of China's northwestern loess plateau, "Mimosa" is the moving story of a young man's experience after being released from a prison camp. It is the first in a series of novels to be set against the dramatic backdrop of struggle and change in China during the last quarter century.
Zhang Xianliang's realistic themes and fluid, personal style have make him one of the most popular authors to emerge in China during the early 198'0s. Several of his award-winning short stories have been made in successful films.
10E-1818
Strange tales from make-do studio
聊斋志易选
By Pu Songling
Foreign languages press 466pp
Illus. 180x110mm. paper
Strange tales from make-do studio is a famous collection of about 500 short stories by Pu Songling, a writer of the Qing dynasty (1640-1715). 51 stories are selected for this English edition. These stories cover a wide range of subjects, such as were-foxes and fish spirits and ghosts and monsters that are personified. Like human beings, they have feelings of good and evil, beauty and happiness and discontent. These mystical stories reflect the social life of the time in which they were written.
10E-1991P
Chinese profiles
北京人



Zhang Xinxin and Sang Ye
China literature press
ISBN: 7-5071-0020-0-/I.21 / 0-8351-1603-4
376pp 36mo
These short profiles are from a collection which presents the experiences and attitude of one hundred Chinese form many different walks of life.
The authors spent a year traveling to many parts of the country interviewing people, and faithfully compiled their oral accounts based on taped or recorded interviews.
The hundred subjects chosen are not all "typical characters." Their ideas, lives and hopes nay not always reflect the reforms now taking place in China; but they nevertheless give something of flavor of this irresistible trend.
10E-1993P
Tang dynasty stories
唐代传奇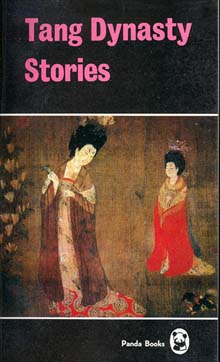 ISBN: 7-5071-0045-6/I.39 / 0-8351-1602-6
149pp 36mo
The stories written during the tang dynasty (AD 618-907) form a significant body of early Chinese fiction. indeed, they are as important as the more famous tang poetry. The prosperity of the Tang dynasty, with its rapid development of agriculture, handicrafts and commerce, supplied a rich material basis for the complex social life which provides the background to these stories. Since the authors were consciously attempting to break new ground in fiction, their writings are more imaginative than earlier tales of the supernatural or anecdotes of famous men. The middle period of the Tang dynasty -- eighth and early ninth centuries -- represented the heyday of this form of literature. The collection includes some of the best stories of the period.
10E-2040P
Autumn in spring and other stories
春天里的秋天和其他
Ba Jin
ISBN: 0-8351-1339-6
36mo
These stories are all set in China during the 1930s. The characters portrayed are westernized, hypersensitive young intellectuals who fall victim to the feudal social system. Autumn in spring subtly contrasts the beauty of spring in the southern town of Amoy with two lovers' obsessions with death and suicide.
10E-2056P
World of dreams
梦中的天地
Lu Wenfu
ISBN: 0-8351-1601-8
248pp 36mo
This book is a collection of eight of Lu Wenfu's works.
Lu was born on March 23, 1928. In his boyhood the spent three years in a secondary school in Suzhou. The scenic beauty and culture of the place impressed him deeply and most of his subsequent fiction drew on his experiences of the town.
"Deep within a lane" is the moving story of a Suzhou prostitute. It caused a sensation in the '50s and thus set Lu Wenfu on a fruitful, if somewhat intermittent, literary career.
"The gourmet," voted best novel of 1984, describes in minute detail the vicissitudes of a glutton before and after liberation and through the chaotic years of the "cultural revolution." The story also provides a glimpse of Suzhou's famous cuisine and a flavor of life in this "heaven on earth."
"The man from a peddler's family," which also won a national short story award in 1980, is a searching description of a peddler's life, showing how the fate of an individual is bound up with the historic changes of a nation.
10E-2057P
Wit & humor from old Cathay
历代笑话选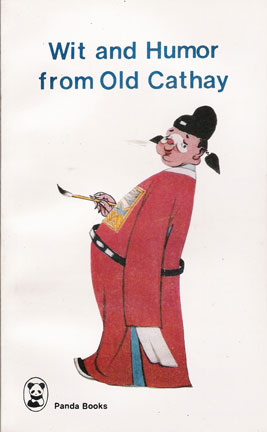 ISBN: 7-5071-0066-9/I.60 / 0-8351-1333-7
210pp 36mo
The thieving cook, the hypocritical monk, the medical charlatan, the tyrannical official, the miserly host and his gluttonous guest: these, along with flashes of pure wit that have universal appeal, are just some of characters to be savored in this selection of classical Chinese humor culled from diverse Ming and Qing dynasty sources. The zany, the facetious and the sublimely eccentric combing to shed light on the seamy side of life, deflating pomposity and reveling in sheer absurdity. Even the more typical offerings, with their tendency toward the bawdy and the grotesque, should delight the general readers as well as the folklorist and the sinologist with their evocative conjuring up of a robust society often overlooked in literary studies of the period.
10E-2099P
Snuff-bottles -- Deng YouMei
烟壶 -- 邓友梅小说选
Chinese literature press
ISBN: 0-8351-1607-7
220pp 36mo
Pre-1949 Beijing is the unifying theme of this collection of stories. The characters that populated them range from noble Manchu bullies and decadent Banner men to actors, charlatans, boxers and honest craftsmen.
The descriptions of daily life and customs, set against the background of the bankrupt yet colorful old Chinese capital, give us - in a very readable form - a social history not usually found in standard textbooks.
10E-2100P
Poetry and prose of the Han, Wei and Six dynasties
汉魏六朝诗文选
ISBN: 0-8351-1606-9
228pp 36mo
Despite the social chaos typical of this period -- spanning 800 years -- numerous classic works were produced.
This volume presents some of the most significant literature of the period, including early folk songs, travelogues, literary criticism and a long narrative poem, and will further stimulate readers' interest in Chinese literature.
10E-2101P
Poetry and prose of the Ming and Qing
明清诗文选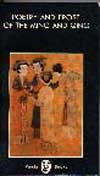 ISBN: 0-8351-1605-0
350pp 36mo
The Ming and Qing were the last two feudal dynasties of China, each lasting over two and a half centuries, and saw a high tide of literary creation. Many outstanding writers such as Liu Ji, Gui Yonguang, Tang Xianzu, Yuan Hongdao, Xu Hongzu and Zheng Xie produced numerous masterpieces in different styles reflecting a diversity of thought and feeling.
This collection contains parables, drama, legends, biography, supernatural stories and poetry, the work of 21 classical authors of various forms, and in intended for the general reader and sinologist alike.
10E-2102P
How Mr.Pan weathered the storm -- Ye Sheng Tao
叶圣陶作品选
ISBN: 0-8351-1604-2
260pp 36mo
Intensely evocative of the spirit of Suzhou, this volume takes you on a journey into a beautiful ancient city. Its network of canals, lanes and byways, and all the surrounding locations have been described in some of the greatest Chinese books this century. Ye Shengtao was born in Suzhou in 1894. His depictions of such characters as a jobless father, a wealthy but troubled couple, or a desperate peasant, make clear his sympathy for the plight of his fellow Chinese. He wrote fiction, children's tales, essays and verses noted for meticulous attention to style.
10E-2130P
Mao Dun -- The vixen
茅盾作品选 -- 小巫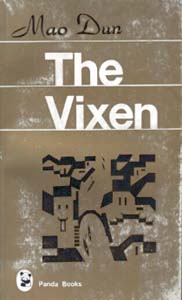 ISBN: 0-8351-1608-5 7-5071-0000-6/I.1
260pp 36mo
Except for "Recollection of Hainan" written in 1963, all pieces in this collection were produced before the founding of the People's Republic of China.
In 1932, on his journey back form Japan where he had stayed for four years, Mao Dun witnessed the poverty and need of people suffering under the rule of the KMT government. He depicted what he say in four of his best short stories, of which "Spring Silkworms" and "The shop of the Lin Family" are printed here.
The stories give voice to his indignation against the decadent regime. On the other hand, his hope and confidence in the common Chinese people are fully expressed in the essay " In Praise of the White Poplar."
10E-2215P
At middle age
人到中年
Shen Rong
ISBN: 0-8351-1609-3 / 7-5071-0005-7/I.6
366pp 36mo
A collection of stories by Shen Rong, a popular writer whose novella "At middle age," published in 1980, won her wide recognition. Over three million copies have been sold and it has been made into a film which was shown to packed cinemas as well as on television. her other stories are equally refreshing looks at social problems.
10E-2216P
The defiant ones
幸存的人



Yeshi Tenzin
ISBN: 7-5071-0089-8 / 0-8351-2098-8
36mo
This fascinating novel by Tibetan writer Yeshi Tenzin is prominent amongst Tibetan literature. It explores the life of Deji Sanmu through descriptions of Tibet in the 1930s and 1940s. The protagonist, like her compatriots, yearns for freedom, fortune and a better life. But under the exploration and depression of the serf owners, it is simply an airy dream.
The author's writing is vigorous, and makes a strong claim for the conventional and religious appeal of Tibet.
10E-2217P
The broken betrothal -- Gao Xiao Sheng
解约 -- 高晓声小说选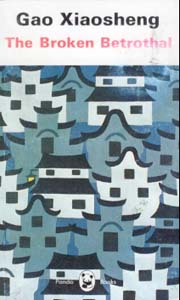 ISBN: 7-5071-0002-2/I.3 / 0-8351-2051-1
218pp 36mo
Gao Xiao Sheng is adept in depicting country life. This collection comprises ten of his stories written form 1954 to 1986. With humor characteristically Chinese, Gao Xiaosheng describes the great changes wrought over thirty years in the countryside of southern China and the present situation of the peasants. "Li Shunda builds a house" delineates the difficulties that beset a simple, industrious peasant in building himself a house, which he manages only after the smashing of the "gang of four." The hero in Chen Huangsheng's adventure in town" is a typical peasant who broadens his field of vision after being lifted out of poverty. The story was later adapted into a popular film.
10E-2218P
The miraculous Pigtail -- Feng JiCai
神鞭 -- 冯骥才小说选
ISBN: 7-5071-0001-4/I.2 / 0-8351-2050-3
312 pp 36mo
An out-sized pigtail becomes a formidable weapon in this selection's title story written by the widely acclaimed writer and painter Feng Jicai. Set in Tianjin, the stories remind one of a slide-show, given with rollicking gook humor. The portraits depict characters form the late Qing dynasty through to the present day. "Thanks to life" follows an artist through political misfortunes to spiritual redemption; the gem-like "The tall woman and her short husband" details a physical mis-match that piques the neighbors' curiosity. These stories and other provide a highly personal glimpse into the world of Feng Jicai's fecund imagination, and are guaranteed to captivate and delight.
10E-2242
Lapse of time
流逝—王安意短篇小说选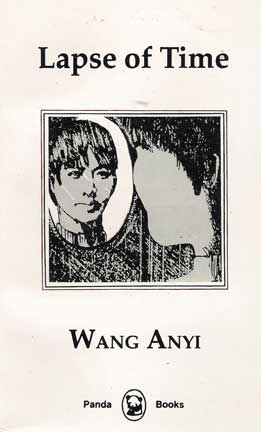 By Wang Anyi
Chinese literature press 272pp.
180x110mm. paper
ISBN: 7-5071 0031-6/I.31
Six short stories and a novella by Wang Anyi, the most popular Chinese women writer of Shanghai. The stories tell much about the quality of life in China today and the different senses of value of the writer's generation. The text is translated with skill from the original, and the stories included are: The Destination, and the Rain Patters On, Life in a Small Courtyard, the Stage, a Miniature World, The Base of the Wall, Between, Themselves, and Lapse of Time.
10E-2244
On the Horqin Grassland
玛拉沁夫小说选
By Malqinhu
Foreign languages press 256pp. 180x110mm. paper
ISBN: 7-5071-0023-5
On the Horqin Grassland is an anthology of Malqinhu's works about new life and local change, national liberation, the end of slavery and the rapid development of culture, which are all hearteningly described via herdsmen, emancipated serfs, balladeers, athletes, fiddlers, living Buddha's, miners, huntsmen. The author draws many vivid pictures of life on the grassland.
10E-2301P
Dragon tales
龙的传说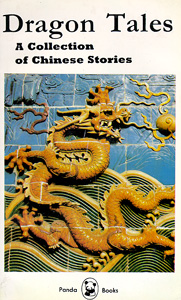 Chinese literature press
ISBN: 7-5071-0024-3/I.24 / 0-8351-2028-9
232pp 36mo
In china there are many fantastic stories and legends about the dragon. This collection contains some of the finest classical and modern examples, including "The Rakshas and the sea market" and "The princess of the west lake," both by the famous Qing-dynasty writer Pu Songling (1640 -- 1715). They relate the wonders of a dragon palace and of lover between dragons and human beings; "Tripod lake and the golden lotus flowers" is the story of how the first Chinese ruler, Huang Di, was transported to fairyland on the back of a dragon; and "The looking-to-mother shoal," tells how human beings were transformed into dragons. These intriguing, entertaining tales reflect the rich imagination and high aspirations of the Chinese people.
10E-2315PA
Selected works of Wang Meng - The strain of meeting
王蒙选集卷一:相见集
Foreign languages press 402pp. 210x130mm.
ISBN: 7-11901033-X
The works of famous contemporary writer Wang Meng are popular among Chinese audiences because of his ready wit, profound thinking, untrammelled emotions and humorous language. Having lived through more than his share of life's frustrations, Wang Meng writes perceptively of people and life in its many faces, infusing his works with numerous insights. This collection is edited specially for foreign readers. It contains works form various periods before 1983 and represents different genres, such as novels , prose, fables, literary theories and reviews, For the convenience of readers abroad, the book provides the author's biography, a chronology of his creative works (up to 1983) and a brief introduction to the publication and study of Wang Meng's works in foreign countries. Included in the book are also the author's original manuscripts and photos of himself form different periods.
10E-2315PB
Selected works of Wang Meng - Snowball
王蒙选集卷二:雪球集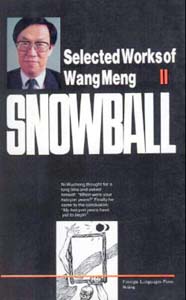 Foreign languages press 470pp. 210x130mm
ISBN: 7-119-00638-X
This book is a collection of the novella The Movable Parts and three short stories by the famous Chinese contemporary writer Wang Meng. The Movable Parts depicts life in an intellectual's family in Beijing before liberation. Ni Wucheng, the hero, had been to the West to study. This experience with Western culture influenced both his thinking and behaviour, which were hated by his family members. They laughed at him, abused him, cursed him, giving him nothing but constant pain. He was hurt by his mother-in-low, sister-in-low, and his wife. Even his children whom he lowed most dearly, who were his only spiritual sustenance, caused him pain unintentionally. On the other hand, his existence in the family also made others suffer. In his family there was no happiness, no joy, everyone was building a hell for himself or herself and for others. Through the small world of this hell-like family, the author revealed the cruel reality of old China and the darker aspects of traditional Chinese culture. Since its publication, the novella has been well received in Chinese literary circles. The three short stories in this collection present the author's wise and humorous reflection on life.
10E-2344P
The time is not yet ripe -- contemporary China's best writers and their stories
中国当代作家及其小说





作者:殷边
外文出版社出版
简裝本 36开 / 382
ISBN:9787119007427 / 7119007424
This book introduces eleven of China''''s best contemporary writers. Their stories are representative of a new literary age(1976-1989)marked by the boldness with which writers explore different themes and experiment with different styles. Revealing a panorama of contemporary life in the various echelons of China, the book is a guide to contemporary Chinese literature.
10E-2510
The core of Chinese classical fiction
中国古典小说精选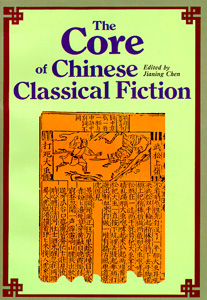 New world press 492pp 201x139mm paper
ISBN: 7-80005-109-9
Unit one: Tales of the Six dynasties (A.D. 222-589)
Unit two: Tang dynasty romances (A.D. 618-907)
Unit three: Storyteller's scripts of the Song dynasty (A.D. 960-1279)
Unit four: Novels from the fourteenth to the sixteenth centuries
Unit five: Novels from the seventeenth to the early twentieth centuries
10E-2516P
The obsessed
伏曦伏曦



Liu Heng
ISBN: 7-5071-0072-3/I.66 / 0-8351-2083-X
340pp 36mo
Liu Heng's plots are realistic, his language direct, vigorous and rich in local color. The author delves deep in to his characters' psyche in order to bring out the conflicts and the subtle nuances of human emotion. The simplicity of his prose, combined with a sensitivity towards traditional standards of beauty, gives Liu's work a marked individuality.
This volume contains three of his finest works, of which "Grain," his first masterpiece, snapped up a national short story prize. The portray the differing aspirations of the farmer, the intellectual and the student towards life, love and the pursuit of individual goals. The obsessed, his representative work, tells a tragedy in a peasant's family. Through the description of the malformed relationship between the heroine and the hero, the author discloses the sharp conflicts between love and feudal ethics. The story has been made into a film by a Sino-Japanese joint production company, directed by Zhang Yimou.
10E-2525P
Sights with stories in old Beijing
北京旅游点的传说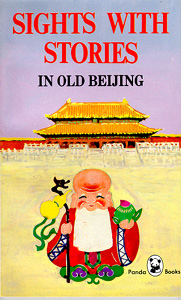 Chinese literature press
ISBN: 7-5071-0076-6/I.70 / 0-8351-2087-2
189pp 36mo
The 47 legends that make up this book center around some of Beijing's most celebrated sights. Here are the "just-so stories" of the Forbidden city, the Great wall, the Temple of heaven, the Fragrant hills, the Summer palace, the Lama temple, the Gate of heavenly peace and many others, told as earthly and vividly as only Beijingers can. Reminisce or whet your appetite with a slice of Beijing life.
10E-2561P
Glimpses of northern Tibet
藏北游历
Ma Lihua
Chinese literature press
ISBN: 7-5071-0080-4 / 0-8351-2090-2
331pp 36mo
Known as "the roof of the world," the Tibetan Plateau has, until early this century, been shrouded in mystery; even today much of its uniqueness remains veiled.
Beginning in 1976, the young woman writer Ma Lihua made seven journeys to Northern Tibet. Withstanding tremendous hardship and peril, she records in vivid detail her experiences in the fast changing land, offering readers glimpses into the lifestyle of the Tibetan people, their religion, folklore, customs and legends.
10EC-2580S
A selection of Chinese classical poems with illustrations
配图古诗精选


ISBN 7505402404
Publisher Morning Glory Publishers
Year Published 2001
Size 7 ¼" x 1- ¼"
Pages 74
Language English / Chinese
Cover Hardcover
Author Edited by Wang Yanbo / Ren Guang
Chinese classical poems with English translation and graphical illustrations. 63 pages. Hard cover.
This small delicate tome of poetry offers classical poetry for the armchair aesthete; the poems are offered in both Chinese and English, and are accompanied by brush paintings. The perfect book to read with a friend after dinner!
10E-2657PA-C
Three Kingdoms (1-3)
三国演义(1-3)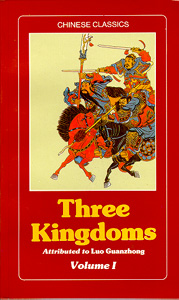 In English. Three Volumes (1, 2 & 3). Total of 1698 pages. Attributed to Luo Guangzhong. Translated by Moss Roberts.
Introduction: "The empire, long divided, must unite; long united, must divide. Thus it has ever been." With this characterization of the inevitable cycle of Chinese history, the monumental tale Three Kingdoms begins. As important for Chinese culture as the Homeric epics have been for the West, this Ming dynasty masterpiece continues to be read and loved throughout China as well as in Japan, Korea, and Vietnam. The novel offers a startling and unsparing view of how power is wielded, how diplomacyis conducted, and how wars are planned and fought; it has infulenced the ways that Chinese think about power, diplomacy, and war even to this day.
Three Kingdoms portrays a fateful moment at the end of the Han dynasty (206 B.C. . A.D. 220) when the future of the Chinese empire lay in the balance. Writing more than a millennium later, Luo Guanzhong drew on often-told tales of this turbulent period to fashion a sophisticated, compelling narrative, whose characters display vivid individuality and epic grandeur.
The story begins when the emperor, fearing uprisings by peasant rebels known as the Yellow Scarves, sends an urgent appeal to the provinces for popular support. In response, three young men--the aristocratic Liu Xuande, the fugitive Lord Guan, and the pigbutcher Zhang Fei--meet to pledge eternal brotherhood and fealty to their beleaguered government. From these events comes a chain of cause and consequence that leads ultimately to the collapse of the Han.
10E-2657DA-C
Three Kingdoms (1-3)
三国演义(1-3)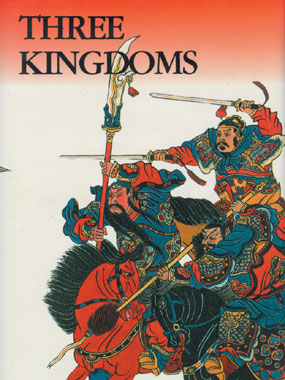 By Luo Guanzhong
The epic tale of a pact to save a beleaguered country recounts how the aristocratic Liu Xuande, the pig butcher Zhang Fei, and the fugitive Lord Guan, swear eternal brotherhood and fealty. Herein lies the tale of Guan Yu, the patron saint of martial artists.
10E-2658P
Black snow
黑的雪
Liu Heng
China literature press
ISBN: 0-8351-2091-0 / 7-5071-0082-0/I.76
261pp 36mo
This story describes the life of a peddler: Li Huiquan, released form prison where he spent several months on account of violence, makes up his mind to earn a living by selling clothes on a street-stall. He attempts to forget his past, but it continues to haunt him. He is lonely and longs for understanding and love. His old associates find him and he relapses.
Liu Heng is a master of psychological writing. the feeling of loss and alienation of today's youth is superbly described and has a powerful impact upon the reader.
He is also author of The Obsessed, which has been made into the film Judou, and Grain, awarded a prize for best short story of 1986. His works have been translated into several foreign languages.
10E-2659P
Strings of life
命若琴弦



Shi Tiesheng
Chinese literature press
ISBN: 0-8351-2092-9 / 7-5071-0083-9/I.77
271pp 36mo
This collection by the young writer Shi Tiesheng contains nine stories including "My faraway Qingpingwan," "Granny's star," "Blacky," "Our corner," "Autumn remembrance," "Fate" and "Strings of life." Physically handicapped himself, the author is sensitive to the disabilities of others. This imbues his work with unique understanding of his characters and their motivations. he writes about ordinary people who have been maimed in some way, and in doing so exorcises to some extent the pain of his own misfortune. His style is exquisite but simple and natural, where charms lie.
10E-2662P
One-minute stories
一分钟小说
ISBN: 7-5071-0085-5 / 0-8351-2094-5
229pp
Contained in this book are the best one-minute short stories by contemporary writers. They are vivid miniature anecdotes about modern China. a male midwife if shot because his customer is a warlord who thinks his delivery insulted his wife. A singer develops an aptitude for capricious political change, thus ensuring she is applauded at all times. A mother proves her lover for her daughter on her quiet death bed... All the stories, either satirical or lyrical, appeal to the reader with their terseness and forcefulness.
10E-2669P
I wish I were a wolf
我要属狼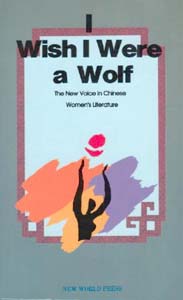 Publisher: New World Press
Author: Kingsbury, Diana (ed.)
ISBN:7800051242
To be wolf, not a sheep-- this is the cry of Chiense women who have been herded and sacrificed for thousands of years, penned up behind walls of tradition. To make choices as free individuals, to live and work, to love as they will-- these are the rights Chinese women now claim as their own.
10E-2678P
The jade king -- history of a Chinese Muslim family
穆斯林葬礼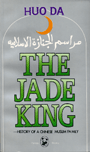 Huo Da
ISBN: 7-5071-0090-1/I.84 / 0-8351-2099-6
595pp 36mo
The jade king is the story of three generations of a Chinese Muslim family, from the turbulent years of the Japanese invasion and the Second World War through to the present day. Central to the theme of this tragic novel are the four harrowing love stories of father, son, aunt and daughter, each victims of prejudice and fate.
Hou Da, a Muslim writer herself, locates her narrative in the specific milieu of Beijing's Muslim community with its jade artisans, astute merchants, hardworking housewives, and its young people struggling to assert their independence and individuality in the face of religious and social bigotry.
Richly textured, moving, tremendously exciting, The jade king is a veritable tour de force. It was recently accorded China's top literary accolade, The Mao Dun Prize for Literature.
10E-2702P
Lady in the picture - Chinese folklore
画上的媳妇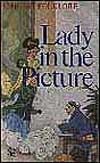 ISBN: 7-5071-0088-X / 0-8351-2097-X
249pp 36mo
This volume includes the famous legends "Liang Shanbo and Zhu Yingtai," "The story of Meng Jiang," four widely known stories which have touched the hearts of the Chinese people for centuries. Passed down by word of mouth, they reflect the traditional beliefs of the Chinese people, their pursuit of happiness and true love, their desire to work in peace and freedom, and their detestation of those who reap without toil, who bully the meek, and who insist on arbitrary marriage. These simple, lively tales that teach kindness and honesty are a pleasure to read.
10E-2726
Metropolis
都市风流
By Sun Li & Yu Xiaohui
Chinese literature press 528pp 180x110mm paper
ISBN: 7-5071-0086-3
This huge work, with its enormously complicated structure, its protracted yet controlled plot and its myriad of lifelike characters presents a vivid multidimensional portrait of social change and reform, tenacious struggle and hopes for the future in an old city in north China.
10E-2729P
Romance..western bow
西厢记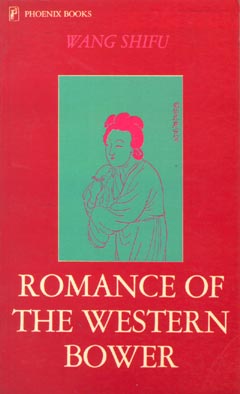 This Chinese classic is considered one of the best of the works produced by the Yuan dramatists, a genre of playwrights know for attacking the feudal marriage system. Though the main theme of this play is the love between a young scholar named Zhang and Oriole, a girl of noble birth, it is mischievous and ingenious Rose who has been a favorite with theatre-goers down the ages.
10E-2737P
One rainy evening
梅雨之夕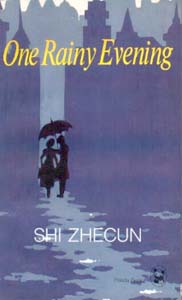 Shi Zhecun
ISBN: 7-5071-0134-7 / 0-8351-3135-1
188pp 36mo
Shi Zhecun (1905-), the first Chinese author to incorporate psychoanalysis into his creative writing, has been rediscovered after forty years of obscurity.
This selection includes the tale of a woman who married her fiancé's memorial tablet in order to inherit his property. Now middle-ages, she remembers her lost youth and love and longs for the attention of the opposite sex. The result is disappointment and despair. Another story is a bizarre account of the fearful state of mind of a man on the point of nervous breakdown.
Shi Zhecun's innovative fiction if indispensable reading for the study of contemporary Chinese literature.
10E-2788P
Oh! Blue bird
啊!青鸟



Lu Xing'er
ISBN: 7-5071-0092-8 / 0-8351-3127-0
390pp 36mo
In the anthology are four pieces by the well-known shanghai writer Lu Xing'er, one of many talented authors who have appeared on the Chinese literary scene since the 1970s. With an observably feminine sensitivity, she has tasted to the full the excitement, confusion, pain and joy of a generation, and this is vividly reflected in her careful portraits of the lives of ordinary Chinese people. Her protagonists are women from all walks of life and her concern for their fate has made a deep and lasting impression on her growing readership.
10E-2789P
The black button
黑钮扣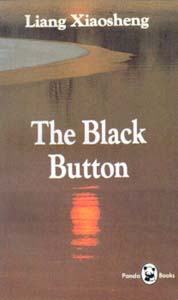 Liang Xiaosheng
ISBN: 7-5071-0116-9 / 0-8351-3126-2
Liang Xiaosheng is one of China's outstanding younger writers whose vivid depictions of contemporary life have won tremendous popular acclaim. "A land of wonder and mystery," the first story to bring him fame, describes the psychological hardships suffered during the "cultural revolution" by a group of young people in China's bleak northeast. "Father" and "The black button" reflect the lives, loves and hates of working people. "Ice dam" is a tale of heroic self-sacrifice. Each story represents a stage in the author's literary development.
10E-2790P
Tao Yuanming -- Selected poems
陶渊明诗选
ISBN: 7-5071-0118-5 / 0-8351-3129-7
102pp 36mo
Tao Yuanming (365 - 427) was a great pastoral poet, whose works had a profound influence on the subsequent development of Chinese poetry. Contained in this volume is a selection of poems translated by Gladys Yang and Yang Xianyi mostly when they were students at the University of Oxford fifty years ago. The book is prefaced by the late well-known scholar, Wang Yao, who made significant contributions to the study of classical Chinese literature.
10E-2791P
Contemporary Chinese woman writers III
女作家作品选 III
ISBN: 7-5071-0117-7 / 0-8351-3128-9
322 pp 36mo
How are women in China responding to the rapidly changing times in which they live? Reflected in this collection are some of the pressing social issues that have preoccupied Chinese women over the past decade. Included here is Su Ye's affecting tale of stifled aspirations in the countryside; Chin Li's exhausting description of a Wuhan factory worker's day; Bi Shumin's frustrations at bringing up a child in the consumer age, and the anxieties of Cheng Naishan's successful Shanghai business woman. Women from all walks of life are portrayed, but what binds them together is a common desire to exert some control over their destinies.
10E-2806P
Banana vale
芭蕉谷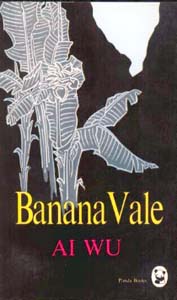 Ai Wu
ISBN: 7-5-71-0135-5 / 0-8351-3136-X
180pp 36mo
A young scholar joins a band of vagrant thieves as he wanders through the border areas of southwest China. One night he witnesses a murder. To preserve their own safety the thieves throw an injured mate into a ravine. The young man awakes one morning to find them gone and everything that happened seems no more than a dream. He is haunted by horror at the killing and a confusion of complicated emotions.
This collection of stories depicts life in the 1930s in China's southwest, a region populated by many minority groups where life was full of love, hate, mystery, romance and adventure.
10E-2821P
Broad sworder
扬子江摇篮曲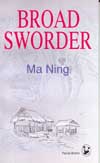 Publisher Panda Books
ISBN 31343
Size 4 1/4 x 7 Pages 184
Language English
Cover PAPERBACK
Author Ma Ning
Translated Liu Shicong
Ma Ning's endearing, comic hero is simply known as Broad Sworder, the name which the illiterate young peasant, a former member of the Broad Sword Society, takes when he enlists in the army. Broad Sworder is from the mountains, ignorant, superstitious, and contemptuous of the written word the "black ants." And yet he has an instinctive hatred of the Japanese invaders who want to seize his piglet, and of every kind of injustice. Step by painful step, Broad Sworder gains knowledge and experience in the great melting pot of the New Forth Army. The final, inevitable tragedy reveals a man of true courage and stature.
10E-2822
Confucius
孔子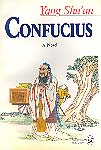 By Yang Shu'an
Chinese literature press
382 pp 202x141 mm paper
ISBN: 7-5071-0136-3
Confucius, one of the most seminal and influential thinkers, educators and philosophers in Chinese history, has a sphere of influence that is no longer confined to the borders of China, but has also expanded throughout the world. He bequeathed spiritual wealth to peoples across the globe. Over the course of two millennia, countless books have been written on hem. However, Yang Shu'an, an author of historical fiction, retells the life of Confucius in a new full-length novel which displays a masterful and intimate knowledge of that era and endows his portrayal of the great sage with a strong sense of history, thus providing the reader with a keen insight into the cultural milieu of Confucius's time.
10E-2890P
Apart from love
不谈爱情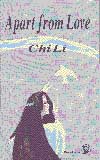 Chi Li
ISBN: 7-5071-0220-3 / 0-8351-3136-6
358pp 36mo
This collection introduces six short stories by the popular young women writer Chin Li. Set in the large industrial city of Wuhan, the stories focus on the lives of young people as they deal with questions of love and marriage, and everyday problems such as job-hunting, housing, family planning and bringing up children. The detailed and earthy descriptions conjure up a vivid picture of life in China today.
10E-2891P
Book of songs
诗经
Chinese literature press
ISBN: 7-5071-0234-3 / /0-8351-3143-2
360pp 36mo
The Book of songs is the earliest anthology of Chinese poetry. Its 305 songs are divided into four parts: "Book of Lyrics (Guogeng), " "Book of odes (Xiaoya), " "Book of epics (Daya)," and "Book of Hymns (Song)."
The Book of songs , whose themes cover a wide cross section of Chinese society, describes the complex social life, the ideas and sentiments of the populace, and the sharpening social conditions in China's remote past. The book is remarkable for its vivid and refined use of a rich vocabulary, lifelike characterization and imagery, and soul-touching narration and descriptions. Its, indeed, a littering gem in the Chinese treasure house of literature and history.
10E-2907P
The scholar and the serving maid
杨乃武与小白菜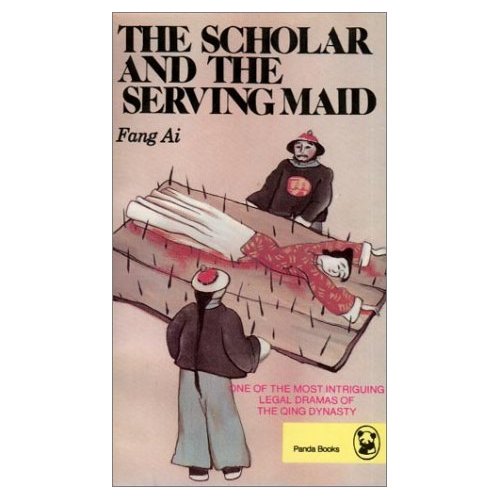 ISBN: 7-5071-0224-6 / 0-8351-3141-6
209pp 36mo
One of the four intriguing cases of the Qing dynasty, "The scholar and the serving maid" is known to almost every household in China. It has been presented for over a hundred years in many forms on stage, and recently, on TV.
The scholar Yang Naiwu and the serving maid known as Little Cabbage had been tried by over a hundred officials form the county level up to the imperial court until the Empress Dowager Cixi redressed their grievances. But feudal ethics still kept the two lovers apart for life.
10E-2908P
Unfilled graves
空坟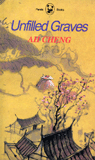 Ah Cheng
ISBN: 7-5071-0278-5 / 0-8351-3145-9
170pp 36mo
The writer Ah Cheng is one of the many gifted young writers who have become increasingly popular with Chinese readers. The stories in this volume represent some of his best writings.
The lives of women are a common theme in contemporary world literature; no less so in China. This new Panda Book looks at tragedy and heartbreak in the lives of Chinese women.
"Unfilled graves," which is the title of this collection, describes an inaccessible mountain village where the men-folk get married as soon as they are old enough and leave the village to look for work. any stray male passers-by are inveigled to stay and father a child before they are allowed to leave. The mother has the child and then mourns his departure at her absent husband's empty grave.
10E-2909P
Recluse of the heavenly house
听画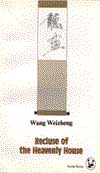 Wang Weizheng
ISBN: 7-5071-0223-8 / 0-8351-3140-8
220pp 36mo
Traditional Chinese painting has always been a prize bloom in the garden of painting. It enjoys equal renown with oil painting in the history of art and is keenly sought after by art dealers all over the world. This book tells of the conflict between a collector and a forger over a precious ancient painting, and the lover entanglements among their children. The story is imbued with a strong flavor of legend.
10E-2911P
The corridors of power
官场
Liu Zhenyun
ISBN: 7-5071-0222-X / 0-8351-3139-4
311pp 36mo
Liu Zhenyun has a large following in today's China. This Panda Book collects four of his masterpieces from different periods. In addition to the above-mentioned work, there are two novelettes, "the unit" and "Ground covered with chicken feathers," and a short story, "Pagoda depot," which to some extent is autobiographical. The author trenchantly describes the mentality and lives of the "under-dogs" and of some low-rank officials. He presents the reader with the whole process of how a noble character can degenerate into a petty one, a man who becomes only concerned with personal gains and losses under the pressure of life. The stories, evidence of the writer's wisdom and insight, reflect the innermost soul of human beings: snobbery, desire for power, pettiness and struggle to move "up" in society -- all rarely touched themes in decades of Chinese literary woks.
10E-2929P
The story of Qiuju
秋菊打官司



Chen Yuanbin
ISBN: 7-5071-0277-7 / 0-8351-3144-0
206pp 36mo
"The story of Qiuju," a simple story of one women's search for justice, was adapted for a film that won the Golden Lion Prize at the 49th Venice International Film Festival. Speaking of his award winning film director Zhang Yimou said: "The credits should first and foremost go to the original story." Upon publication, the story itself won a prize form an established Chinese literary magazine. The author Chen Yuanbin is a much respected writer of contemporary literature whose works are enjoyed by a wide audience.
Simple as it is, the story possesses a profound meaning, part of which is revealed through the nature of the heroine which leads to her actions. She is simple, kind-hearted but firm, exemplifying the merits of Chinese country women.
The other three works in this collection, "Celestial River," "Heaven's Course" and "The Drowning of Jiuzhou City," reflect the author's observations of contemporary Chinese society and China's history.
10E-2930P
For love of a silversmith
银饰



Zhou Daxin
ISBN: 7-5071-0253-X / 0-8351-3146-7
216pp 36mo
The thread common to these stories is Zhou Daxin's characterization of the Nanyang people. The stories focus on the lives of three different women in three different eras, each form a different background. "For love of a silversmith" is a tale of passion set nearly a century ago. a tragic sequence of events is triggered by a loveless marriage. The loveless match is also explored in "The sesame oil mill." Here Gao Ersao, owner of a successful oil mill, a child bride married of necessity, is force to question the loveless marriage she has forced upon her daughter-in-law. "Out of the woods" is set in the reform years, a transition period between old ideas and new. It takes the determination of Sha's wife Xun'er, to break away from their performing monkey troupe tradition and try a new way of life.
10E-2983P
Son of heaven
少年天子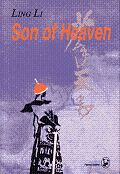 Ling Li
Chinese literature press
ISBN: 7-5071-0288-2 / 0-8351-3147-5
672pp 36mo
Son of heaven takes the reader within the walls of the Forbidden city where this historical tale of ambition, love and loss is acted out amid scenes of breathtaking pageantry and unspeakable cruelty.
Son of heaven was awarded the Mao Dun prize for Literature in 1991 and is perhaps the best known amongst the number of highly praised historical novels written by author Ling Li.
10E-2984P
The mist of my heart -- selected poems of Shu Ting
心烟-- 舒婷诗文选
ISBN: 7-5071-0285-8 / 0-8351-3148-3
111pp 36mo
Shu Ting began writing in 1969 when she was seventeen. Her poem "My homeland, My dear homeland" (1979) won instant fame when it was honored with the prestigious National Poetry Award. Her books include The Double-Masted boat and the flowers tat sing. Shu has described her won work as "poems that are imbued with both a profound pain and a wakening joy... They are not only the love songs to my country but also the praise of love and friendship." Her poems have often been admired for their subtle and delicate style and refined diction and profundity. Shu Ting is perhaps one of the most popular poets of her time.
10E-3056P
Lest We Forget: Nanjing massacre, 1937
南京大屠杀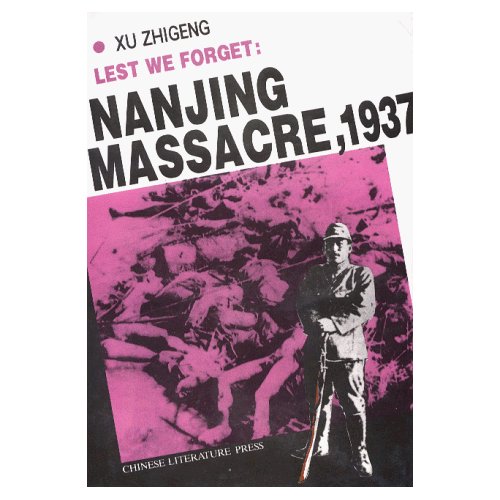 Xu Zhigeng
ISBN: 7-5071-0302-1 / 0-8351-3149-1
307pp 36mo
In December 1937, the invading Japanese troops seized Nanjing without meeting substantial resistance. The city was sacked, the soldiers committing arson, murder, looting and rape over a period of more than six weeks. One group of innocent people after another was marched away to be massacred; for a time the shore of the Yangtze River was strewn with corpses and the river dyed red with blood as more than 300,000 innocent people perished during the mass slaughter.
Here, for the first time, this cruel holocaust is recounted in a text that is by terns evocative, hair-raising, terrifying, stirring, and moving. No one can read these pages without being shaken by the grisly truth that is revealed in mountains of evidence -- eyewitness accounts, news reports, confessions court documents, and photographs.
10E-3059P
Six contemporary Chinese women writers IV
女作家作品选 IV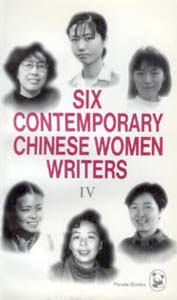 Author: Chen, Meilan (ed.)
Chinese literature press
ISBN: 7-5071-0297-1 / 0-8351-3175-0
374pp 36mo
"Female writers (in China) have secured a unique position not by relying on feminism of the feminine but by directly contributing new forms of literature," writes Professor Chen Meilan in the preface to this fourth edition of writings by Chinese female authors. The collection attests to the progress of women in modern Chinese society, both as writers and ordinary individuals.
Each of the six authors (Ye Mei, Fan Xiaoqing, Wang Anyi, Zhang Xin, Lu Xing'er, tie Ning) in this collection reveals a preoccupation with modern society which is the theme common to each of the six stories. Here, human relationships and individual lives clearly express the impact of current social change in China. How problems of provincialism and economy place pressure on the daily lives of women, how they cope and seek solutions are explored and in part answered in the distinctly different settings for the stories this collection contains. From the traumas of adolescence to the reflections of mature years, on love, work and marriage, this collection opens the door a notch to the world of women in contemporary China, to their positions and to the "new forms of literature" used to portray them.
10CE-3067P
Encounters with cold mountain -- -- poems by Han Shan
寒山诗选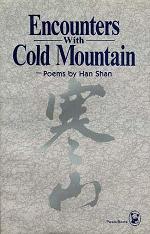 作者: 寒山子
Chinese literature press
出版社: 中国文学出版社
ISBN: 7-5071-0317-X / 0-8351-3177-7
150pp 36mo
页数: 149
定价: 18.00
装帧: 平装
Han Shan was one of the leading poets of the Tang dynasty, and perhaps the most 'modern' in the remarkable diversity of his subject matter and the breadth of his emotional responses to the world. He retired to Cold mountain, took its name for his own, and lived the life of a hermit, leaving some three hundred poems which, legend has it, friends and visitors copied from the rocks and tree trunks on which be carved them.
He writes about life on Cold mountain with a painter's eye and devotee's sense of divine meditation. He writes about his contentment and stoic resignation, but he also writes about the bitterness of being passed over, about sorrows that threaten to swamp his Taoist equanimity. he writes about love and the loss of love; he writes about the reclusive life and about educating the young so that they will fulfill their roles in society. He writes about missed opportunities and sudden, unsought enlightenment,.
In short, though he adopted the life of a hermit Han Shan seems to have lived, however vicariously, a complete life, a diverse emotional and intellectual life during which the quest for his internal Buddha-nature was never quite capable of quelling the desire for a full and rich life in the world.
内容提要:
中国古典诗歌发展到唐宋时代,已成为艺术皇冠上的璀灿明珠。千百年来,它以眩目的光华,无穷的魅力,诱惑着,滋养着一代又一代沉恋文海的华夏学子。在中国,没有任何一部文学作品的传播能与唐诗宋词相比,它使泱泱大国无处不浸透着高贵典雅的古诗余韵与遗风。它众多的篇章不仅为文人学士,而且亦为民间妇孺所熟知,以至于村头牛背,万口传唱。纵然是在非常的岁月,它的风采也从未在战火和饥荒中湮灭。近半个世纪以来,国内曾出版过无数版本,从全唐诗到各种诗词选,力求满足广大读者的不同需要。而出版者们仍不满足,仍在作着另辟蹊径的努力,这套中、英对照的玲珑诗丛即是如此。除却个别极具成就的优秀诗人超越了唐宋时代,丛书一般以一位唐宋诗词代表作品为单册,以原作、英译为内容,以方便携带、兜中能藏的体积为开本,精彩设计,华美装帧。
作者简介:
寒山(约712-793)是唐代诗僧,无名无姓,因长期隐居在台州始丰(今浙江天台)西的寒岩,山中寒冷,故自号寒山子。 寒山平生喜好作诗,且随作随弃,有一篇一句,即题于竹木石避,或村中屋舍墙壁之上,不复留存。据他本人自述,作诗600道:今存300余首。他的思想是儒家、佛教、道家及神仙家各种观念的糅合,他的诗以教诫说理为主,有较强的劝世功能。诗大都没有题目,在体裁上五言古诗居多。他喜欢采用民间俗语白话入诗,诗风朴实而有真意,浅显直露,通俗易懂。二十世纪二三十年代,寒山被列为初唐三大白话诗人之一。郑振铎称赞寒山诗题材广泛、用典少、通俗明白、是中国白话文学的先行者。
10E-3069P
The dead suffered too -- The excavation of a Ming tomb
风雪定陵
Yue Nan and Yang Shi
Chinese literature press
ISBN: 7-5071-0298-X / 0-8351-3179-3
282pp 36mo
This book provides rare insight into the archaeological excavation of Ding Ling, one of the Ming dynasty imperial tombs and the first to be background, the social setting and the digging process in detail, along with the many unexpected findings. The imperial coffins, burial objects and artifacts exhumed shed light on mysteries which had lain buried for almost four centuries. It recalls the lively personalities of the people who proposed and participated in the excavation, their heart-felt sentiments and lofty ideals. It follows their life experiences in the unpredictable political atmosphere of that time. It also tracts the history of this huge imperial tomb, detailing how it was built, what fierce struggles it invoked among the emperors, empresses, concubines and court officials, and why it has a somewhat different appearance today.
10E-3071P
Behind the veil of the forbidden city - History of the imperial palace - Anecdotes of court life
禁宫探秘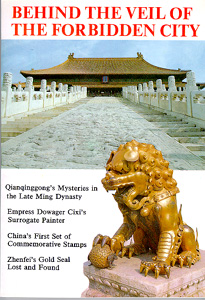 ISBN: 7-5071-0335-8 / 0-8351-3178-5
274pp 36mo
The Forbidden city, the imperial palace of the Ming and Qing dynasties, is the largest and most complete complex of palace buildings that has been preserved in the world. It has been designated by the United nations as one of the most valuable sites of cultural wealth of mankind. Due to strict taboos about discussing palace life outside, many anecdotes and titbits of court life were unknown to common people in the past. the historic stories contained in this book vividly describe what really happened inside the deep palaces. What secrets lay behind the three court mysteries? What were the secrets behind the hall plaque "Justice and uprightness" with regard to the selection of the Crown prince? Were the many paintings and calligraphy scrolls bearing Empress dowager Cixi's name and seal really painted by the dowager herself? What was the truth about the fire at the Gate of chastity prior to Emperor Guangxu's wedding? How many imperial resorts were there? Who stole the gold seal of Imperial concubine Zhenfei? Besides, there are many stories about the glazed birds and beasts on the roof-tops of the palace structures, the bronze tortoises, cranes, elephants, lions decorating the imperial daily and the artisans working in the imperial palace. An informative and entertainingly significant history, this book is a must for all those who want to know details of the life of emperors and empresses in ancient china.
11E-619
From emperor to citizen
-- The autobiography of Aisin-Gioro Pu Yi
爱新觉罗。溥仪,我的前半生



504pp 202x140mm cardboard
From emperor to citizen is the autobiography of the man who was the last emperor of China and, later puppet emperor of "Manchukuo", Japanese imperialism's pseudo-state in China's Northeast.
The book begins with the author giving a vivid picture of the last, decadent days of the Qing court. He reveals how, after the overthrow of the dynasty, he and other feudal forces plotted with foreign powers to restore the monarchy, and how he became the Japanese imperialists' puppet. He then goes to describe his life an "Emperor of Manchukuo" and tells how he came into the hands of the Chinese people's government. He gives a lively account of his remolding through labour and study in prisons for war criminals, relating how his thinking changed. The final chapter tells about his new life after his pardon as an ordinary citizen of People's China.
11E-1492P
Early man in China
中国大陆上的远古居民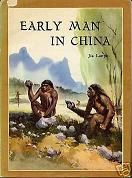 Jia Lanpo
Foreighn Languages Press, Beijing.
A general introduction to early man by one of the founding fathers of Chinese paleoanthropology.
Softcover, 10 1/4" x 7 1/2"", English text is 60 pages, 58 black and white and color illustrations.
11E-1514S
The wonder of Chinese bronzes
中国青铜器的奥秘



By Li Xueqin
Page: 80 pages+39 plates, 43 figs
Size: 185x260mm
Chinese bronzes were not only the daily utensils, work tools and weapons of the people of ancient times, but also exquisite works of master craftsmen which have been handed down from generation to generatio. Their beautiful forms, elaborate decorations and the moving stories that were cast on them have attracted the attention and aroused the interest of lovers of bronzes at home and abroad.
This book, copiously illustrated with colour pictures and sketches, is recommended to readers who wish to explore the wonder of Chinese bronzes. In language comprehensible to the layman, it supplies a basic knowledge on Chinese Bronze art: its origin, periods of development and its value as regards the study of ancient history and ancient script. The author is a specialist who has researched into this subject for many years, and in this book he reports on the latest results of the study and excavations of Chinese bronzes
Contents
1. The Origin of Chinese Bronzes
2. Classification of Bronzes
3. "The Earth Cherishes No Treasure"
4. A Long History of Development
5. Testaments of Ancient History
6. From Pictographs to Seal and Clerical Scripts
7. Myth and Reality
8. Technique of Bronze Casting
9. Bronze Mirrors, Belt Hooks, Seals and Coins
10. The Spread of Bronze Culture from the Central Plain
11. Appendix
12. Chronology of Chinese Dynasties
11E-2832P
A concise history of the communist party of China
中国共产党简明历史



Author Hu Sheng
Publisher Foreign Languages Press
ISBN: 16016
Size 5 3/4 x 8 1/4
Pages 873
Language English
This systematic account traces the first seventy years of the Chinese Communist Party. Drawn from original archives and documents, this authoritative history includes new information regarding the Party from 1949 to the present, objectives of the Party for the future and theories of building socialism with Chinese characteristics. An essential reference for anyone interested in the development of modern Chinese history.
12E-1585P
Beijing-China's ancient and modern capital
北京
By Liu Junwen foreign languages press 264pp. 130x183mm.
ISBN: 7-119-01221-5
This book deals with the history of Beijing, the city's historical sites, scenic beauties, institutions of higher learning, libraries, museums, opera, traditional arts and crafts, and its famous cuisine. It will serve as a reference work for readers who want to know about China's capital and also as a handy guide for tourists.
Euroned-China Promotions (ENCP) www.encp.nl